January 1, Solemnity of Mary, Mother of God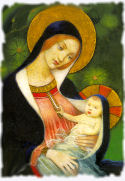 Although New Year's Day is not celebrated by the Church, this day has been observed as a holy day of obligation since early times due to the Solemnity of Mary, Mother of God. Each family and country has different traditional foods to eat on New Year's Day, with lentils being the main superstition: ill luck befalling those who do not eat lentils at the beginning of the year.
New Year's is a day of traditional hospitality, visiting and good cheer, mostly with a secular view, but there is no reason that this day, too, could not be sanctified in Christ.