December 26, Feast of St. Stephen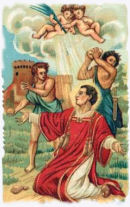 Saint Stephen is the first martyr of the Church, and is the patron of stonemasons, masons, bricklayers, deacons, headaches, and horses. His story comes from the Acts of the Apostles. He is usually pictured in deacon's vestments, holding the symbol of martyrdom, a palm branch. Sometimes he has a stone in his left hand, to indicate his death by stoning. He is depicted in many images wearing a wreath, which refers to the origin of his name, the Greek word Stephanos meaning "wreath."
"If you know what witness means, you understand why God brings St. Stephen, St. John, and the Holy Innocents to the crib in the cave as soon as Christ is born liturgically. To be a witness is to be a martyr. Holy Mother Church wishes us to realize that we were born in baptism to become Christ — He who was the world's outstanding Martyr." — Love Does Such Things, by Rev. M. Raymond, O.C.S.O.