January 10, Christmas Weekday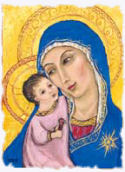 Every country in the world has its own Christmas customs. Christmas in Australia is often very hot. Whereas the northern hemisphere is in the middle of winter, Australians are baking in summer heat. It is not unusual to have Christmas Day well into the mid 30 degrees Celsius, or near 100 degrees Fahrenheit.
A traditional meal includes a turkey dinner, with ham, and pork. A flaming Christmas plum pudding is added for dessert. In the Australian gold rushes, Christmas puddings often contained a gold nugget. Today a small favor is baked inside. Whoever finds this knows that they will enjoy good luck. Another treat is Mince Pies.
It is Father Christmas who brings the presents to the Australian children on Christmas Eve. Homes and gardens are decorated with greenery, Christmas tree and fairy lights. Seasonal plants are the Christmas bush and the Christmas bell.