January 3, Most Holy Name of Jesus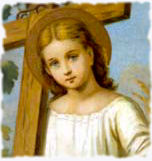 The name of Jesus is a name of gladness, a name of hope and a name of love. A name of gladness, because if the remembrance of past transgressions afflicts us, this name comforts us, reminding us that the Son of God became man for this purpose, to make himself our Savior.
A name of hope, because he that prays to the Eternal Father in the name of Jesus may hope for every grace he asks for: If you ask the Father anything in My name, He will give it you.
A name of love. For the name of Jesus brings to our remembrance all the sufferings which Jesus has endured for us in his life and at his death. — Excerpted from St. Alphonsus de Liguori, The Incarnation Birth and Infancy of Jesus Christ