Move to:
Previous Day
|
Next Day
Ordinary Time: November 26th
Thursday of the Thirty-Fourth Week of Ordinary Time; Thanksgiving
» Enjoy our Liturgical Seasons series of e-books!
Many people assume that the United States has celebrated Thanksgiving Day since the time of the pilgrims as a sign of thanksgiving for the harvest season. This is not exactly true. President Abraham Lincoln instituted the holiday in 1863 during the Civil War. However, he did not have the harvest in mind. He wanted Americans to celebrate the holiday as a sign of unity and thanksgiving to God.
I do therefore invite my fellow citizens in every part of the United States, and also those who are at sea and those who are sojourning in foreign lands, to set apart and observe the last Thursday of November next, as a day of Thanksgiving and Praise to our beneficent Father who dwelleth in the Heavens" (President Abraham Lincoln, Proclamation, October 3, 1863).
There is no American holiday that so closely resembles the symbolism and meaning of the sacrament of the Eucharist. We celebrate Thanksgiving as a sign of American unity and thanksgiving to God who has given us great gifts.
Excerpted from
The Religion Teacher
According to the 1962 Missal of St. John XXIII the Extraordinary Form of the Roman Rite, today is the feast of
St. Sylvester
. He was the son of a lawyer and had also studied law before becoming a canon in his native town of Osimo. He was a zealous and fervent priest. His determination to retire into solitude was caused by the sight of the decomposing corpse of a friend. He at first lived as a hermit at Grotta Fucile, and then on Monte Fano where followers came to join him. He gave them the habit and Rule of St. Benedict together with certain other customs which reflect his own aspirations and the devotional tendencies of his day. He died in 1267 at the age of ninety.It is also the commemoration of
St. Peter, Bishop of Alexandria
, who was beheaded on November 25, 311, during Maximinus Daia's persecution. He was a great bishop, famous for wisdom and holiness; "a model of charity and zeal, severe towards himself, merciful to sinners, a divine model of the Christian teacher," says Eusebius.Historically today the feasts of
St. John Berchmans, priest and St. Leonard of Port Maurice
, priest are celebrated.
---
Thanksgiving
The holiday of Thanksgiving is celebrated in the United States with family gatherings and traditional foods. The Church also has a special liturgy for this day. The Entrance Antiphon sets the tone for our religious observance, "Sing and play music in your hearts to the Lord, always giving thanks for everything to God the Father in the name of our Lord Jesus Christ (Eph 5:19-20). Eucharist means Thanksgiving and we should be especially grateful for this most sublime gift. We hope you will enjoy some of our recipes and suggestions for this day. Let's try to celebrate as Christians remembering to be temperate as we carve the turkey and eat the pies.
The following suggested petitions would make a nice addition to our meal prayers:
That the Church throughout the world will more vigorously thank the Lord for His kindness towards His children. Lord hear our prayer.That the government of our beloved country will never forget to praise and thank the Almighty who is the generous Giver of each gift. Lord hear our prayer.That those who suffer may recall that God still loves them and wants to lead them to unending peace in the next world. Lord hear our prayer.That all Americans on Thanksgiving Day will be blessed with a fresh awareness of the loving Most Blessed Trinity from whom all good things come. Lord hear our prayer.That those Americans who have no faith in God may be touched by grace this day and seek the Creator of the universe. Lord hear our prayer.That the faithful departed will soon gather around God's altar in paradise where they will joyfully thank Him for ever. Lord hear our prayer.
Things to Do:
---
The following is taken from Taylor Marshall's website and would be a good story to relate to the children on Thanksgiving.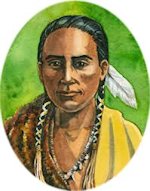 Do you remember Squanto, the Native American who assisted the Puritan Pilgrims at the "first Thanksgiving"?Well, Squanto, our beloved hero of Thanksgiving, was Catholic!His true name was
Tisquantum
, yet he is affectionately known to us as "Squanto."In 1614, Squanto was captured by a lieutenant of John Smith (remember? from Pocahontas). This shameful lieutenant attempted to sell Squanto and other Native Americans into slavery via Spain. However, some Franciscan friars discovered the plot and acquired the captured Native Americans, Squanto included. During this time, Squanto received instruction in the Catholic Faith and received holy baptism.As a freeman, Squanto traveled to London where became a laborer in the shipyards. Here he became fluent in English. Eventually, Squanto was able to return to his Native Land, New England, in 1619 - five years after he had been kidnapped. He returned only to discover that his people were being decimated by the recently imported European diseases.Since he was fluent in English, Squanto became well-known and valuable to the new English Pilgrims settled at Plymouth. As an English speaker, Squanto taught the Pilgrims how to fertilize the ground, grow corn, and the best places to catch fish. Squanto eventually contracted one of the European diseases. Governor William Bradford described Squanto's death like this:
Squanto fell ill of Indian fever, bleeding much at the nose, which the Indians take as a symptom of death, and within a few days he died. He begged the Governor to pray for him, that he might go to the Englishman's God in heaven, and bequeathed several of his things to his English friends, as remembrances. His death was a great loss.
So remember Squanto today and perhaps share this bit of history during your Thanksgiving feast. Let us pray for Squanto, and may he pray for us.
---
Eric Metaxas has written a wonderful children's book called Squanto and the Miracle of Thanksgiving which you may purchase at Amazon.