Move to:
Previous Day
|
Next Day
Ordinary Time: November 26th
Thursday of the Thirty-Fourth Week of Ordinary Time; Thanksgiving
» Enjoy our Liturgical Seasons series of e-books!
Many people assume that the United States has celebrated Thanksgiving Day since the time of the pilgrims as a sign of thanksgiving for the harvest season. This is not exactly true. President Abraham Lincoln instituted the holiday in 1863 during the Civil War. However, he did not have the harvest in mind. He wanted Americans to celebrate the holiday as a sign of unity and thanksgiving to God.
I do therefore invite my fellow citizens in every part of the United States, and also those who are at sea and those who are sojourning in foreign lands, to set apart and observe the last Thursday of November next, as a day of Thanksgiving and Praise to our beneficent Father who dwelleth in the Heavens" (President Abraham Lincoln, Proclamation, October 3, 1863).
There is no American holiday that so closely resembles the symbolism and meaning of the sacrament of the Eucharist. We celebrate Thanksgiving as a sign of American unity and thanksgiving to God who has given us great gifts.
Excerpted from
The Religion Teacher
According to the 1962 Missal of St. John XXIII the Extraordinary Form of the Roman Rite, today is the feast of
St. Sylvester
. He was the son of a lawyer and had also studied law before becoming a canon in his native town of Osimo. He was a zealous and fervent priest. His determination to retire into solitude was caused by the sight of the decomposing corpse of a friend. He at first lived as a hermit at Grotta Fucile, and then on Monte Fano where followers came to join him. He gave them the habit and Rule of St. Benedict together with certain other customs which reflect his own aspirations and the devotional tendencies of his day. He died in 1267 at the age of ninety.It is also the commemoration of
St. Peter, Bishop of Alexandria
, who was beheaded on November 25, 311, during Maximinus Daia's persecution. He was a great bishop, famous for wisdom and holiness; "a model of charity and zeal, severe towards himself, merciful to sinners, a divine model of the Christian teacher," says Eusebius.Historically today the feasts of
St. John Berchmans, priest and St. Leonard of Port Maurice
, priest are celebrated.
---
St. Catherine of Alexandria
The account of her martyrdom is legendary and defies every attempt to cull out the historical kernel. Old Oriental sources make no mention of her. In the West her cult does not appear before the eleventh century, when the crusaders made it popular. She became the patroness of philosophical faculties; she is one of the "Fourteen Holy Helpers." The breviary offers the following: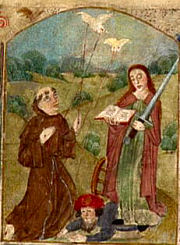 Catherine, virgin of Alexandria, devoted herself to the pursuit of knowledge; at the age of eighteen, she surpassed all her contemporaries in science. Upon seeing how the Christians were being tortured, she went before Emperor Maximin (311-313), upbraided him for his cruelty, and with convincing reasons demonstrated the need of Christian faith in order to be saved. Astounded by her wisdom, the Emperor ordered her to be kept confined, and having summoned the most learned philosophers, promised them magnificent rewards if they could confound the virgin and turn her from belief in Christ. Far from being successful, a considerable number of the philosophers were inflamed by the sound reasons and persuasiveness of Catherine's speech with such a love for Jesus Christ that they declared themselves willing to offer their lives for the Gospel.Then the Emperor attempted to win her by flattery and by promises, but his efforts proved equally fruitless. He ordered her whipped with rods, scourged with leaden nodules, and then left to languish eleven days without food in prison. The Emperor's wife and Porphyrius, general of the army, visited Catherine in prison; her words brought both to Christ and later they too proved their love in blood. Catherine's next torture consisted of being placed upon a wheel with sharp and pointed knives; from her lacerated body prayers ascended to heaven and the infernal machine fell to pieces. Many who witnessed the miracle embraced the faith. Finally, on November 25 Christ's servant was beheaded (307 or 312). By the hands of angels her body was carried to Mt. Sinai, where it was interred in the convent which bears her name. --Excerpted from
The Church's Year of Grace
, Pius Parsch.
Patron:
Apologists; craftsmen who work with a wheel (potters; spinners; etc.); archivists; attorneys; barristers; dying people; educators; girls; jurists; knife grinders; knife sharpeners; lawyers; librarians; libraries; maidens; mechanics; millers; nurses; old maids; philosophers; potters; preachers; scholars; schoolchildren; scribes; secretaries; spinners; spinsters; stenographers; students; tanners; teachers; theologians; turners; unmarried girls; wheelwrights.
Symbols:
Wheel set with sharp knives; broken wheel; sword; crown at her feet; hailstones; bridal veil and ring; dove; scourge; book; spiked wheel; woman strapped to the spiked wheel on which she was martyred; woman arguing with pagan philosophers.
Things to Do:
St. Catherine was invoked by young girls seeking husbands. If you have children, you could use this feast to discuss the qualities of a good spouse. You could bake St. Catherine's wigs and have your discussion as part of the fun (a spoon full of sugar).
Read more about St. Catherine.
St. Catherine's remains are in St. Katherine's Monastery on Mt. Sinai. The Monastery, a 1,600-year old fortress at the base of Mt. Sinai, is inhabited by Coptic monks (not in union with Rome). Inside the chapel is believed to be the Burning Bush, through which God first appeared to Moses. Read more about the history of the Church of Alexandria and the Council of Chalcedon where the Coptic Church broke from the bark of Peter and pray for the reunion of all Eastern Churches under the Pope.

---
Thanksgiving
The holiday of Thanksgiving is celebrated in the United States with family gatherings and traditional foods. The Church also has a special liturgy for this day. The Entrance Antiphon sets the tone for our religious observance, "Sing and play music in your hearts to the Lord, always giving thanks for everything to God the Father in the name of our Lord Jesus Christ (Eph 5:19-20). Eucharist means Thanksgiving and we should be especially grateful for this most sublime gift. We hope you will enjoy some of our recipes and suggestions for this day. Let's try to celebrate as Christians remembering to be temperate as we carve the turkey and eat the pies.
The following suggested petitions would make a nice addition to our meal prayers:
That the Church throughout the world will more vigorously thank the Lord for His kindness towards His children. Lord hear our prayer.That the government of our beloved country will never forget to praise and thank the Almighty who is the generous Giver of each gift. Lord hear our prayer.That those who suffer may recall that God still loves them and wants to lead them to unending peace in the next world. Lord hear our prayer.That all Americans on Thanksgiving Day will be blessed with a fresh awareness of the loving Most Blessed Trinity from whom all good things come. Lord hear our prayer.That those Americans who have no faith in God may be touched by grace this day and seek the Creator of the universe. Lord hear our prayer.That the faithful departed will soon gather around God's altar in paradise where they will joyfully thank Him for ever. Lord hear our prayer.
Things to Do: