Catholic Activity: Thanksgiving Placemat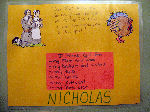 This craft features a Thanksgiving Placemat. This can easily be done with children who are 3-4 years old and older. The child will cut out, glue, and place her prayer, list of things to be thankful for, and any pictures etc...on the large piece of construction paper. For added fun and a lesson in thankfulness, the kids can be encouraged to draw or color pictures of something they are thankful for or to compose their own prayer saying thank you to God.
DIRECTIONS
Draw, color and cut out the items to be included on the placemat. Have the child decide where she wants to place her items. You might want to gently sketch or mark where this will be on the large piece of construction paper. Do all decorating of the items BEFORE gluing them down.
Then glue them to the large sheet of construction paper. Once you have all your items glued onto your placemat and the glue is dried, cover both sides of your new placemat with clear contact paper. It will last for many meals to come!
Example Prayer: Dear God, thank you for everything you give me. I hope you have a good Thanksgiving Day. I love you! (by a six-year-old)