Move to:
Previous Day
|
Next Day
Ordinary Time: January 24th
Memorial of St. Francis de Sales, bishop and doctor; Optional memorial of Our Lady of Peace
» Enjoy our Liturgical Seasons series of e-books!
Old Calendar: St. Photina (Hist)
Today the Church celebrates the memorial of St. Francis de Sales, bishop and doctor, with St. Jane Frances de Chantal, he founded the Order of the Visitation. He wrote Introduction to the Devout Life, a classic of spiritual direction. This is also the optional memorial of Our Lady of Peace celebrated in the diocese of Honolulu.
Before the reform of the General Roman Calendar this was the feast of St. Timothy, bishop and martyr. St. Timothy was the faithful companion of St. Paul on his missionary journeys. His feast is now celebrated on January 26. St. Francis de Sales feast was celebrated on January 29 and the feast of Our Lady of Peace was celebrated on July 9.
---
St. Photina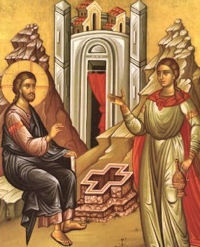 St. Photina was that Samaritan woman whom our Lord met at Jacob's Well. When He disclosed the secret of her profligate life, she believed in Him at once as that Messiah which was to come, and began spreading the Gospel among the Samaritans, converting many. Later, she and her son Josiah and her five sisters went to Carthage to preach and then to Rome. Another son, Victor, was a soldier and had already come to Emperor Nero's attention as being a Christian. The Emperor summoned the whole family and with threats and tortures tried to force them to renounce their faith in Jesus Christ. Meanwhile, when Nero's daughter Domnina came in contact with Photina (the Lord Himself had given her the name, meaning "resplendent" or "shining with light"), she, too, was converted. The enraged emperor had the heads of the sons and sisters cut off; Photina was held in prison for a few more weeks before being thrown into a well, where she joyously gave her soul to the Lord.
Excerpted from Orthodox America
---

The Station is at the church of St. Cecelia where the Saint lived and was martyred and where her body now rests. The first church on the site was built in the 3rd or 5th century, and the baptistery from this church was found during excavations, situated underneath the present Chapel of Relics. A house from the Imperial era was also found, and tradition claims that the church was built over the house in which St Cecilia lived. This house was one of the tituli, the first parish churches of Rome, known as the titulus Ceciliae.