St. Francis de Sales—Introduction to the Devout Life | Pt. 1 (Ch.19-24)
By James T. Majewski ( bio - articles - email ) | Aug 05, 2022 | In Catholic Culture Audiobooks (Podcast)
Listen to this podcast on: Apple Podcasts | Google Podcasts
Episodes in this podcast beyond the most recent 15 are limited to Catholic Culture subscribers only. Log in or subscribe now (free) to get all the episodes!

This is a listener-supported podcast! Thanks for your help!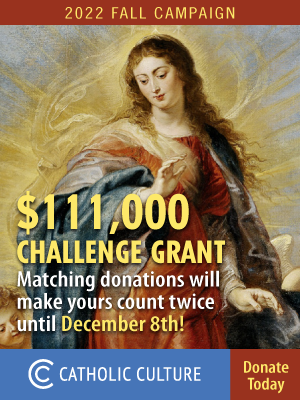 "There is no disposition so good but it may be made bad by reason of vicious habits, and neither is there any natural disposition so perverse but that it may be conquered and overcome by God's grace primarily, and then by our earnest endeavor."
St. Francis de Sales ends this first part of the Introduction with instructions on making a general confession along with a firm resolution at amendment. He concludes with an exhortation that the devout soul be resolved to purge away all tendency to venial sins, all inclination to useless distractions, and all imperfections whatsoever. In Part 2, he will lay out the means for doing so.
This work will be released in its entirety in episodic format over the course of the next several months. Be sure to subscribe so as not to miss an installment!
Links
Introduction to the Devout Life full text: https://watch.formed.org/introduction-to-the-devout-life-by-st-francis-de-sales
Go to http://www.catholicculture.org/getaudio to register for FREE access to the full archive of audiobooks beyond the most recent 15 episodes.
Donate at: http://www.catholicculture.org/donate/audio
Theme music: 2 Part Invention, composed by Mark Christopher Brandt, performed by Thomas Mirus. ©️2019 Heart of the Lion Publishing Co./BMI. All rights reserved.
Sound Off!
CatholicCulture.org supporters weigh in.
All comments are moderated. To lighten our editing burden, only current donors are allowed to Sound Off. If you are a current donor, log in to see the comment form; otherwise please support our work, and Sound Off!