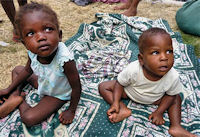 Almsgiving
Almsgiving is tied closely with fasting. Whatever we give up, the money we save should go to the needy. It should be given away to the missions, the Church, or a worthy charity. In a family with small children it helps to make this a visual practice by, for example, having a jar or box in the center of the table as a reminder and measure of progress.

It is also considered "almsgiving" to give one's time and goods to those who are in need, i.e., donating time for a soup kitchen, giving clothes to charity, visiting the shut-ins, driving those without transportation and other similar practices.

The earthquake in Haiti provides us with a good opportunity to donate money saved from our self-denial to those who have lost what little they had.