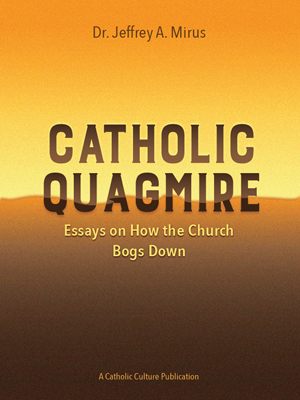 Catholic Quagmire
Essays on How the Church Bogs down
by Jeffrey A. Mirus
Book Description
This collection of essays, written between early 2017 and early 2019, focuses on the many ways in which Catholics and their leaders tend to reflect the thought patterns of the surrounding secular culture. When this happens, they fail to address key contemporary issues as if their Faith makes a difference. Topics include mercy, purity, marriage, the family, common parental mistakes, the public authority of the Church, false priorities in Catholic leadership, sexual orientation, human respect, and more. When the Church is infected by worldly ways of thinking, she gets bogged down, rendering ineffectual the mission of Christ.
Table of Contents
Introduction: When secular patterns of thought paralyze the Church
If the English cannot live in accordance with moral values, are they free?
Warning: Our strengths are often our weaknesses. Same with the Pope.
The marriage game: Musical beds, musical faiths, and no emphasis on fidelity
Rigidity and conversion do not mix. But don't be fooled by double-speak.
Sex vs. Sexual Orientation; Prejudice vs. Discrimination
Human respect: Not only a sin in our time, but a theology
Spiritual abandonment in human care: The "differences" fallacy
The priorities of Catholic leadership today, and how they must influence praise and blame
Random reflections on public shootings and ultimate safety in our time
Seven spiritual mistakes of "good Catholic parents"
Christian insistence on purity and moral change
Why can't the Church stop harping on purity?!
God made you like that, and I do not care.
Time to give the lie to a culture in denial?
Dangerous! Both religious exclusion and religious common cause
Refuse to breathe thin air: Know the source of your convictions, challenge others on the source of theirs
The perfectly legitimate public authority of the Church
Successful societies are (always) rooted in the family
Welcoming the Catechism's changes on the death penalty
The managerial class: Top companies are usually our enemies
The secularization of Christ: A case study
Beyond abortion: Responding to the deeper crisis
What is missing in the Church today? What we brag about most: Mercy
Are those who experience same-sex attraction prone to abuse?