Catholic Activity: Lent Hymn: O Head All Scarred and Bleeding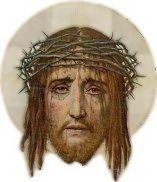 Original melody by Hans Lee Hassler, 1601. Used in this form by J.S. Bach in the St. Matthew Passion. Translation, Henry S. Drinker.
DIRECTIONS


1. O Head all scarred and bleeding,
And heaped with cruel scorn!
O Head so filled with sorrow,
And bound with crown of thorn!
O Head that was so honored,
So lovely fair to see,
And now so low degraded!
My heart goes out to Thee.
2. Thou countenance so noble,
Yet now so pale and wan,
Which all the world should honor,
Now foully spat upon.
No more Thine eyes are shining,
That once did shine so bright,
Ill-usage and maligning,
Affliction, shame and spite.
Activity Source: Around the Year with the Trapp Family by Maria Augusta Trapp, Pantheon Books Inc., New York, New York, 1955