We have $163,080 to go in our Fall Campaign. Every penny is used to strengthen the Church. See details!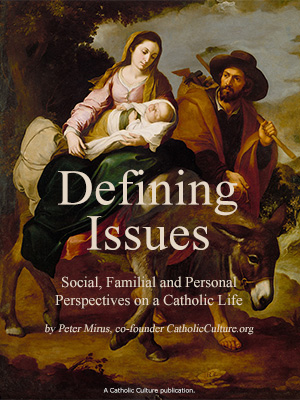 Defining Issues
Social, Familial and Personal Perspectives on a Catholic Life
by Peter Mirus
Book Description
This is a collection of original essays for CatholicCulture.org written between 2004 and 2006. Topics reflect the author's interest in integrating issues and discussions raised by readers on the website into a cohesive vision of Catholic life. The range is impressive, addressing Catholic superheroes, Buddhism, Modernism, spam, parenting, arguing, the Chastisement, Tolkien, clergy and laity, Catholic social teaching, pornography, diplomacy, environmentalism and nearly a score of other topics—always from a fresh and invigorating Catholic perspective. With a sure touch, Peter Mirus discusses many of the subjects that concern today's Catholics with the frankness and insight which made these essays so popular as they appeared. Peter Mirus is a marketing consultant and CEO of STA Tech Marketing. He holds a B.A. in English from Christendom College. Married with two children, Mirus is also a Director of the non-profit Trinity Communications and of its website, CatholicCulture.org.
Table of Contents
Introduction
Pornography and the Internet: Are Your Children Safe?
Manifestations of Modernism
Valentine's Day: Love It or Hate It?
We Are All Liars
Catholic Superheroes
Half Measures in a Crazy World
Liberal Diplomacy and the Church
Building a Catholic Action Plan for Reform
No, He's MY Personal Jesus
Catholicism and Buddhism: Compatible Beliefs?
I Just…Can't…Take it Anymore!
Catholic Environmentalism
I Just Don't See It
Spam, Pornography, Fertility and the American Way
Was Pope JPII an Effective Governor?
You are Weird; God is Odd
Behold the Great Outdoors
Dual Parenting Action
Federal Social Programs and Catholic Principles
The Truth About Catholic Social Teachings
Principled Catholic Social Action
Hope and Serenity Among the Thorns
Do You Love To Argue?
The Worst We've Ever Had It. Apocalypse Now?
The Chastisement, Revisited
Inspirational Saints of the Liturgy
Tolkien and His Trees
Prayer: When Asking is . . . Not Asking?
The Clergy and the Laity: Who's Responsible for Whom?
Hear No Evil: My Perspective on Rock Music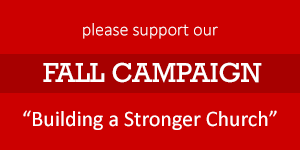 Recent Catholic Commentary
Top Catholic News
Most Important Stories of the Last 30 Days