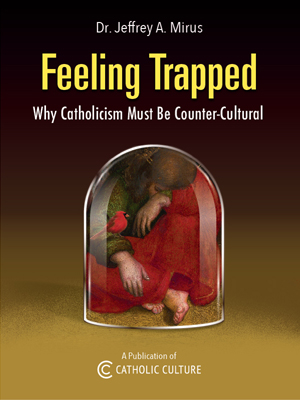 Feeling Trapped
Why Catholicism Must Be Counter-Cultural
by Jeffrey A. Mirus
Book Description
A collection of essays, written from March of 2019 through December of 2021, which highlight the impact of the dominant culture on both personal Catholic witness and the Church herself, emphasizing the need for a faith that is vibrantly counter-cultural if Catholicism is to make a difference, either to ourselves or to the rest of the world.
Table of Contents
Introduction
Bent on evil: How do we explain human culture run amok?
The Pontifical Academy's assessment of the "growing threat of a nationalist revival"
Modern culture in denial: Nothingness reigns in Argentina, too.
When is religion OK in America? When it is no longer religious.
The diplomat and theologian: On the Truth and the limits of inclusivity
Self-serving apologies: Not the Catholic way
We must stop running from reality. But how to begin?
Against Reality: Why our culture wars against the light, and why it will never win
What Fr. John Gerard's escape teaches us now
On toppling statues and reading the riot act
On textbooks, the academic process, and things that last
Increasing concern about government and the social order
Pro-Bomb? No, morality entails sacrifice and trust in God.
Science always points to God
Evangelization and conversion: The keys to civic virtue
State power, State idolatry
Making room for the common good
Driving out love: The modern bureaucratic lifestyle
Just how important is Joe Biden's faith really?
Societal polarization: Dangerous but also a sacred duty.
On the right side of history? A myth of moral progress
What big teeth you have! Why abortion IS a defining issue
Pulses and Impulses: The world as God's theater
Statistics and lies in the flight from Christ
The paradoxes of nonjudgmentalism
On the frequent fatuity of scholarship
Why can't you just be "more loving"?
Contra ambiguity: Francis, Biden, and the US bishops
Confused about public apologies for the past? I'm not.
Churches burning, Satan out in the open: Overplaying his hand?
State control of sex, or Eucharistic Coherence?
Thankless lepers: On San Marino and the Church today
Cardinal Turkson: Biden should not be refused communion. Say what?
American sources of truth?
Natural Law as a basis for polity
God-talk, naturally speaking
Advice that cuts both ways (or Ecclesiastical Gamesmanship)
Not guilty? Bad spiritual advice still hurts you.
State control of sex, or Eucharistic Coherence?
Thankless lepers: On San Marino and the Church today
Catholic political influence: The elected…and the elect
Banning (or allowing) religion-related groups? Not so fast!
The shallowing of Notre-Dame de Paris
Why is persecution of Christians on the rise?