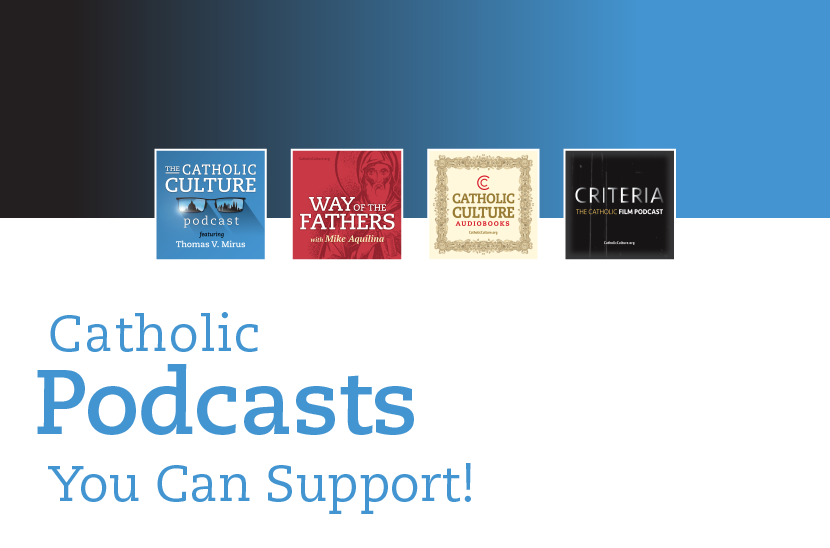 Evangelizing, forming, and informing the faithful!
Catholic Culture started podcasting in 2018, in response to the growing interest in the podcast medium. This provides a way to grow in Faith either through dedicated listening or while performing other tasks that do not require intense concentration. The human voice adds life, warmth, and a fuller personal dimension to our online resources.
Podcasts
Under the direction of Thomas V. Mirus, we have developed four significantly different Catholic podcasts so far:
Interviews
Our flagship is The Catholic Culture Podcast, hosted by Thomas V. Mirus, which typically features interviews with other Catholics who are using their talents to serve God and the Church in a variety of interesting and inspiring ways. The arts are a recurring theme, but almost any topic can (and likely will) be covered.
Catholic History
Mike Aquilina hosts a scripted podcast entitled Way of the Fathers. Join Mike for a fascinating tour of the greatest (and most interesting) apologists, historians, philosophers and theologians among the saints and martyrs in the first few centuries of the Church's history.
Audiobooks
Voice actor James T. Majewski offers listeners Catholic Culture Audiobooks, in which he reads the great formative and literary writings of Catholics over the centuries, with an emphasis on the Church Fathers and the recently canonized St. John Henry Newman. (Registration on CatholicCulture.org is required to listen to MORE than the 15 most recent episodes.)
Film
Thomas and James team up and are joined by occasional guests to discuss the great films on the Vatican Film List, and beyond. Criteria: The Catholic Film Podcast is a "film club" podcast, with a Facebook group through which listeners can share their thoughts. A different film is chosen and announced well in advance of each episode.
Help others to hear the Wisdom of God with new ears!
Catholic Culture continues to embrace new means, methods, and tools to engage the hearts and minds of the faithful. You can help extend the attraction of a human voice and bring the Wisdom of the ages to a new generation of people whose hearts are waiting to be moved by the truth in love.

We depend on you to keep this Catholic work going strong!
Our Podcast Team is the initiative of the younger members of the Catholic Culture staff, whose passion for the Faith and openness to new avenues of evangelization are widening and deepening our audience engagement. They have recently discovered that posting videos of the making of the podcasts is an effective way of attracting new listeners. So expect some experimentation along those lines. Podcasting is a relatively new development for Catholic Culture, which requires its own funding. This highlights, once again, the reality that solidarity among you, the listeners, is the key to success!