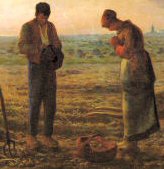 Prayers
Ideally, the members of the family may participate in daily Mass. If this is not possible, the readings from the Mass should be read and meditated upon daily. This could be done as a family, perhaps at the dinner meal. The Mass is the prayer of the Church, and the highest form of prayer. It also unites us with the whole Church in public prayer.
A strong emphasis should be made in receiving the sacraments of the Eucharist and Penance frequently. For an examination of conscience and for help in receiving the Sacrament of Reconciliation see An Examination of Conscience and An Examination of Conscience for Laymen.
Another prayer of the Church is the Divine Office, or Liturgy of the Hours. Praying the Divine Office unites our prayers with the Liturgy of the universal Church.

The Stations of the Cross are special during Lent, because they meditate on the Passion of Christ. Usually the Stations are offered at the parish church on Fridays in Lent. They can also be prayed together as a family.