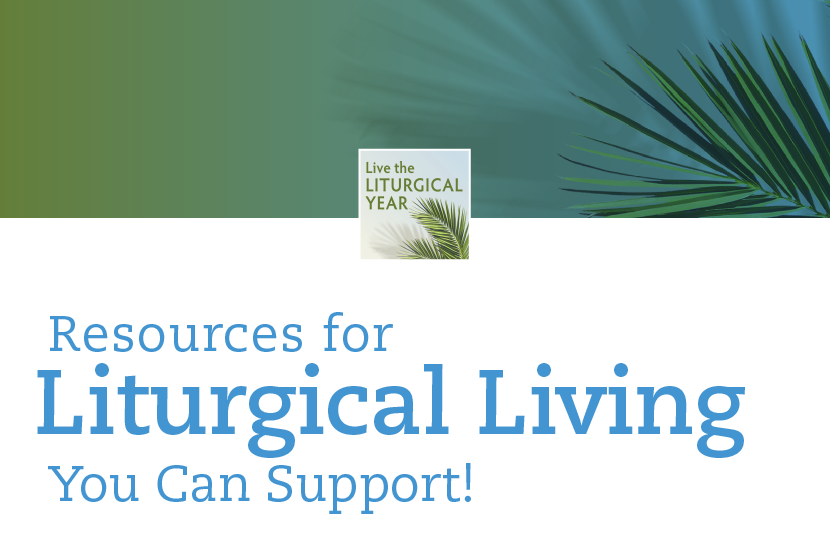 Recall, live, and celebrate the mysteries of salvation!
The life of grace is bound up with and lived through the annual cycle of five liturgical seasons: Advent, Christmas, Lent, Easter, and Ordinary Time. Participation in these seasons of feasts, fasts, sacrifices, prayers and sacraments of the Catholic Church keeps alive and deepens the realization and integration of the truths of the faith among the People of God.
Liturgical Year Resources
We help you to to navigate, celebrate and participate in the rich tradition of the Catholic liturgical year—to concretely live the reality of sacred time.
Each Day
Whether you start from our Home page or the Liturgical Year menu, the resources we offer begin with the current day: pray the day's collect prayer, access the day's Mass scripture passages, read a brief bio of the day's saint, and incorporate some practical recommendations of "things to do" into your home life.
Day, Month, Season
The Liturgical Resources are organized to be accessed in a variety of ways. The daily content is always available, but it is also easy to pull up the calendar for the month and click into any day you want. Go back to previous months or forward into the months ahead. Monthly overviews highlight the themes, feasts, and prayer intentions of the Holy Father for each month. Seasonal overviews are also provided to give context and a deeper appreciation of how the feast day celebrations convey the character and grace particular to the season.
Recipes, Activities and Prayers
Not to be overlooked or underestimated are the recipes, family activities and special prayers you can access daily via the menu and blue sidebar. The liturgical year is meant to be lived concretely amid the chores, concerns and joys of daily life in our homes, the domestic church. Read Jennifer Gregory Miller's superb blog to learn more.
Books and Messages
Accessible from our main Resources menu are six, free, downloadable ebooks that present the entire Liturgical Year as a portable and printable offline tool. We can also send viewers Liturgical newsletters via email—daily or weekly.
Help others to live the Liturgical Year!
The liturgy emcompasses the sacred times, persons, places, prayers, and sacraments of the Catholic Church. Support for this resource directly helps the faithful pray to God and receive His blessings.

We depend on you to keep this Catholic work going strong!
Steady attention and diligent detailed work is required to accurately present the rich and varied content of the Catholic Liturgical Year. For this service, we rely heavily on our librarian, Darden Brock, and our Liturgical Year writer, Jennifer Gregory Miller. Your support ensures that these resources remain current, accurate, and accessible throughout the entire year, each year. This Catholic work is invaluable as it truly stimulates people's faith and disposes them to a more regular and more generous service of God.