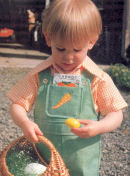 Easter Egg Hunt & Easter Baskets
After all the egg decorating, it is fun to search for Easter eggs, outdoors if possible. Incorporate a new tradition of adding a special Alleluia Egg or golden egg. The person who finds this egg wins a special prize, or gets to perform a special coveted task.
Easter baskets are an American tradition, full of chocolate bunnies and eggs, jelly beans and marshmallow candies. Originally the Easter baskets were a way to celebrate the end of Lenten penance. All foods that were forbidden during Lent are placed in the basket and blessed: cheese, butter, eggs, meats and sweets. For those that are sugar conscious, the baskets can also include little toys, books, flowers, religious holycards with pictures of the resurrection, and a few Easter eggs. There should be reminders that this is the feast of the resurrection, and not just a day to "pig out."