Catholic Activity: The Three O'Clock Hour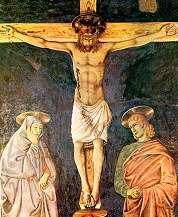 In His revelations to Blessed Faustina, Jesus asked for special, daily remembrance at three o'clock, the very hour He died for us on the cross:
DIRECTIONS
"At three o'clock, implore My mercy, especially for sinners; and if only for a brief moment, immerse yourself in My Passion, particularly in My abandonment at the moment of agony: This is the hour of great mercy for the whole world. I will allow you to enter into My mortal sorrow. In this hour, I will refuse nothing to the soul that makes a request of Me in virtue of My Passion." (Diary, 1320).
At 3:00 o'clock we can pray:
You expired, Jesus, but the source of life gushed forth for souls and the ocean of mercy opened up for the whole world. O Fountain of Life, unfathomable Divine Mercy, envelop the whole world and empty Yourself out upon us. (Diary, 1319).

O Blood and Water, which gushed forth from the Heart of Jesus as a fountain of mercy for us, I trust in You. (Diary, 84).