Catholic Prayer: The Chaplet of the Divine Mercy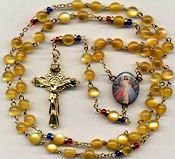 Description:
Our Lord taught Blessed Faustina a prayer for mercy that she was to pray unceasingly: The Chaplet of The Divine Mercy. He told her that, if she prayed in this way, her prayers would have great power for the conversion of sinners, for peace for the dying, and even for controlling nature (Diary, 687, 811, 1731, 1791).

We, too, can pray this chaplet, using ordinary rosary beads of five decades. We begin with the Our Father, the Hail Mary and the Apostles Creed.
Prayer:
Then on the large beads we pray:
Eternal Father, I offer you the Body and Blood, Soul and Divinity of Your Dearly Beloved Son, Our Lord, Jesus Christ, in atonement for our sins and those of the whole world.
On the small beads we pray:
For the sake of His sorrowful Passion, have mercy on us and on the whole world.
And at the end, we pray three times:
Holy God, Holy Mighty One, Holy Immortal One, have mercy on us and on the whole world. (Diary, 476).