We have $160,514 to go in our Fall Campaign. Every penny is used to strengthen the Church. See details!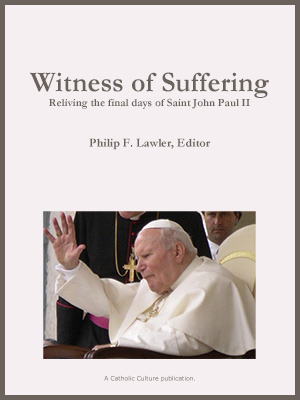 Witness of Suffering
Reliving the final days of Blessed John Paul II
by Philip F. Lawler
Book Description
Faced with a debilitating disease, Blessed John Paul II chose not to suffer in privacy, but to let the entire world watch his struggle. Inevitably he would lose the fight against his illness. But in the process he would offer a personal testimony to the value of suffering. The last weeks of his life became a powerful drama, reaching its emotional climax as the world stood vigil—somber, prayerful, expectant—during his last hours. This collection of headline stories, from the weeks leading up to his death, recaptures the drama and offers readers another opportunity to reflect on the beloved Pontiff's final gift to the Church: his suffering.
Table of Contents
Introduction
The First Crisis: January 31- February 7
Ailing Pope suspends audiences
Pope's illness forces more cancellations
Pope rushed to hospital
Pope's condition stabilized; will remain in hospital
Vatican attempts business as usual despite Pope's illness
Pope thanks faithful for their prayers
Pope's condition improving
Swiss prelate lauds Pope's courage
Background: the Pope's previous hospital trips
Pope improving, hopes to make Sunday audience
Media furor eases as Pope's condition improves
Pope will not address Sunday audience
Ecumenical prayer vigil for Pope's health
Brief papal appearance Sunday
Let the Pope decide about retirement, cardinal says
Pope voice dubbed to conceal speaking difficulty?
Recovering Pope to remain hospitalized
Lent: February 8-22
Pope concelebrates Ash Wednesday Mass in hospital room
Papal resignation: a complex canonical issue
Pope makes a public return to the Vatican
Pope must persevere, African cardinal says
Pope sends his sympathy to the sick
Pope John Paul and the sick: a special bond
Pope asks faithful for prayers
Pope's presence doubtful for Mass ending Retreat
Pope still recuperating, doctor reports
Cardinal Sodano to replace Pope at Saturday Mass
Pope accepts April invitation from Italian president
Mixed signals on Pope's health recovery
Protective screen installed to protect Pope from cold during audiences
The Second Crisis: February 23-28
Cardinal Sodano substitutes for ailing Pope at consistory
Pope hospitalized again
Successful surgery for Pope
Analysis: the Pope's declining health
Pope silenced for "several days" during recovery
Pope expected to miss Sunday audience
Brief papal appearance at hospital window
Pope recovering, but doctors voice concerns
French leader lauds Pope's spiritual leadership
"Resignation" not in Pope's vocabulary, prelate says
Curial official decries calls for Pope's resignation
Prelate suggests Curia take greater role to aid Pope
Pope recovering, may be silenced for weeks
Lengthening Shadows: March 1- 11
No papal audience Wednesday
Pope is speaking, Cardinal Ratzinger reports
Canadian cardinal dismisses talk of papal resignation
No papal appearance, despite rumors
Pope's presence seen key to World Youth Day
Pope still plans trip to World Youth Day
Pope's medical condition updated
Brief papal appearance after Sunday audience
Pope's aim: return to Vatican for Holy Week
Pope flooded by email support messages
Pope will not preside at Holy Week, Easter services
Pope makes surprise window appearance
Pope to leave hospital in "a few more days"
Polish visitor finds Pope speaking clearly
Pope's voice aired on Vatican telecast
Returning Home: March 12-24
Pope returns to Vatican
Italian doctors speculate on Pope's prognosis
Pope thanks media for hospital coverage
No papal audience Wednesday
Silent Pope greets audience
40,000 email messages for hospitalized Pontiff
Surprise video appearance by Pope at youth conference
Pope in pain during quick public appearance
New crisis in Pope's health?
Pope makes surprise, silent appearance
Pope's health problems not hampering Church governance, cardinal says
Vatican prelate praises Pope's "serene abandonment"
A Part in the Passion: March 25- April 1
Pope's illness seen "directly related" to Paschal mystery
Frail Pope is still fully lucid and in charge
Silent and suffering, Pope offers Easter blessing
No papal appearance on Easter Monday
Heavy speculation on Pope's health
Pope gets feeding tube
Vatican bracing for papal succession
Vatican says Pope's condition "very serious"
Prayers for the Pope come from around the world
The Pope's long physical decline
Pope in critical condition after heart failure
More prayers for Pope from around the world
Prayerful Roman faithful await "a true Christian death"
Divine Mercy: April 2
Friday evening bulletin: Pope's breathing shallow
Cardinal Ruini leads prayers for Pontiff
Pope clinging to life, slipping
Saturday bulletin: Pope slipping in and out of consciousness
Pope reported "smiling and serene" by visitors
Pope John Paul II has died
Youth keep night watch following Pope's death
Looking Back: Pope John Paul II Remembered
John Paul remembered #1: thoughts of a boyhood friend
John Paul remembered #2: from childhood to the papacy
John Paul remembered #3: the pontificate in statistics
John Paul remembered #4: the Pope's inner circle
John Paul remembered #5: the Pope's international policy
John Paul remembered #6: the 14 encyclicals
John Paul remembered #7: a treasury of papal writings
John Paul remembered #8: the case for quick beatification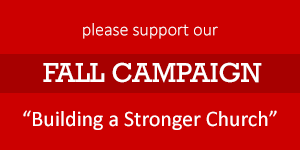 Recent Catholic Commentary
Top Catholic News
Most Important Stories of the Last 30 Days