Catholic Recipe: Lamb Cake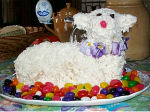 This traditional recipe is a special Easter dessert, always joyfully received by children.
DIRECTIONS
Sift dry ingredients together. Cream shortening. Mix in dry ingredients. Add vanilla to milk and stir into mixture. Beat with electric beater 2 minutes. Fold in beaten egg whites gently, but thoroughly. Grease lamb mold heavily, especially face, then flour. Turn batter into top part. Insert a toothpick in nose and place two others across each ear. Put bottom half of mold in place, making sure edges lock. Place on cookie sheet face side down and bake at 375 degrees 50-60 minutes. Cool slightly before pulling mold halves apart carefully and removing cake. Cake must be removed from mold while warm. Frost with Seven Minute Icing, sprinkle with flaked coconut and cut jelly beans in half for eyes and nose and a strip for the mouth. Decorate with jelly beans around neck. --Mrs. Clifford Godwin, Jr., Cleveland Heights.
Recipe Source:
Catholic Universe Bulletin Recipes, 1962 and 1963 by Sylvia Papp, The Catholic Universe Bulletin, 1962, 1963