Catholic Recipe: Easter Glazed Ham with Fruit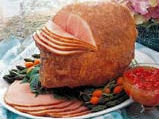 Adorn this delicious ham with a basket made of fruit, for a stunning presentation. A simple recipe, that uses canned ham.
DIRECTIONS
Score fat surface of ham. Combine molasses, mustard, ginger, and vinegar; brush top and sides of ham. Bake at 325° for 15 minutes per pound, brushing several times with remaining glaze. Remove ham from oven before last 15 minutes of baking time. To make Easter basket decoration, place 3 rows of pineapple tidbits on ham to form base of basket. Make bottom row narrow, second row slightly larger, and top row wide. Secure tidbits with ends of wooden picks. Complete basket by making large "handle" with tidbits; secure in same fashion. Form "flowers" for basket with peach slices and maraschino cherries. Brush with remaining glaze. Return to oven; bake 15 minutes. Makes 3 to 4 servings per pound.
Recipe Source:
Cook's Blessings, The by Demetria Taylor, Random House, New York, 1965