Move to:
Previous Day
|
Next Day
Ordinary Time: August 13th
Optional Memorial of Saints Pontian, pope and martyr and Hippolytus, priest and martyr
Other Commemorations: St. Cassian, martyr (RM); St. Radegunde, queen (RM)
» Enjoy our Liturgical Seasons series of e-books!
St. Pontian (Pontianus) was a victim of the persecution of Alexander Severus, who directed his attention particularly against the leaders of the Church. St. Pontian governed the Church from 230 to 235. He was exiled to the mines of Sardinia and died in exile. St. Hippoytus, a priest and a person of some importance in the Church in Rome at the beginning of the third century, provoked a schism which lasted for some years. He was exiled to Sardinia with St. Pontian, where he was reconciled with the Church and died for the faith in 235.
Before the reform of the General Roman Calendar today was also the feast of St. Cassian of Immola, a martyr of the neighborhood of Bologna. According to his biography he was a schoolmaster and was delivered with his hands tied behind his back to his young pupils, who stabbed him to death. In the bishop's chapel at Ravenna there is a mosaic of St. Cassian that dates from the fifth century.
---
Sts. Pontian and Hippolytus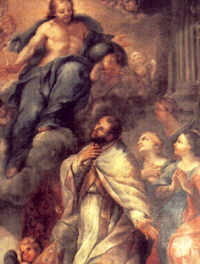 As kind as Severus might have been to the Christians, his successor Maximus Thrax persecuted them. Although Maximus was not a religious man himself, he despised Severus and intended to reverse any attitude to which Severus might have been disposed. He therefore decreed that leaders of the Church be singled out and banished to the labor mines of Sardinia, the famous "Island of Death."
Pontian, a Roman and son of Calpurnius, had enjoyed a peaceful reign over the Roman Church during Severus' time, but soon found himself among the first victims of this new emperor. Rounded up with the antipope Hippolytus, Pontian was deported to the labor mines. Since deportation was a life sentence which few survived, Pontian felt obligated to abdicate so that a successor might quickly preside over the Holy See. He is the first pope known to have abdicated.While imprisoned, Hippolytus reconciled his differences with Pontian and even ordered his followers to bring themselves back to the Church. Before he succumbed to the harsh treatment of the mines, Hippolytus became a true confessor of Christ.Pontian, in the mines only two months, was brutally beaten to death by his jailers. His body, with that of Hippolytus, was returned to Rome approximately a year later, during the pontificate of Fabian. He was buried in the cemetery of Calixtus and was rightfully honored by the Church as a martyr. —Excerpted from
The Popes: A Papal History
, J.V. Bartlett
Patron:
Hippolytus:
Horses; prison guards; prison officers; prison workers.
Symbols:
Hippolytus:
Armor; bunch of large keys; spear; tails of wild horses; lance; iron hook; horses.
Things To Do:
---
St. Cassian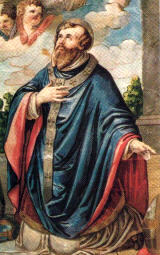 St. Cassian was a schoolmaster at Imola in northeast Italy. He died a martyr during the Roman persecutions under Diocletian, probably in the third century.
Cassian had apparently been a schoolteacher for some time. Then a widespread persecution of Christians commenced. Roman officials arrested him because he was known, or at least suspected, to be a Christian. He was taken before the governor, and the governor demanded, as usual, that he offer sacrifice to the gods. Naturally, Cassian refused to perform this act of apostasy, so he was condemned to death.Now, the Romans had many set types of execution to choose from, but sometimes they invented others. Knowing that Cassian was a schoolmaster, the governor decided that it would be a clever novelty to have him stabbed to death by his own pupils!The schoolmaster was therefore stretched out on the ground and fixed down securely. Then Cassian's former students were brought in. They had not particularly liked their teacher because he had been strict with them. Given the signal, therefore, they set about with a fiendish joy to torment him. They broke their wooden writing tablets over his head, carved their initials carefully on his flesh, and finally stabbed him all over with their pens. Cassian meanwhile accepted their blows with much patience and no malice. He died bloodied with a thousand little wounds. —Excerpted from Father Robert F. McNamara,
Saints Alive
Things To Do:
---
St. Radegunde, Queen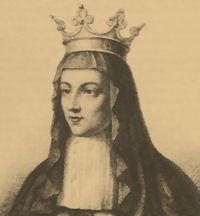 St. Radegunde's father was a king; when he was conquered by King Theodoric of Austrasia and King Clotaire I of Neustria, Radegunde was taken captive at the age of twelve by Clotaire, son of Clovis, the first Christian King of the Franks. She lived at Athies until she was 18, when Clotaire brought her to Vitry and married her. Clotaire was "a man of shocking character." As queen, Radegunde spent her time doing charitable work with the poor and the captives. She ministered to lepers and founded a hospital for them. Radegunde had been married to Clotaire for six years when he killed her brother. Unable to bear his cruelties any longer, she became a nun, with his permission. Radegunde had a double monastery built in Poitiers called Holy Cross. When Clotaire decided to bring her back to court, St. Germanus interceded on her behalf, and the repentant Clotaire sent Germanus back to Radegunde to ask her forgiveness and prayers. After her death, Radegunde's face shone "with a brightness surpassing the beauty of lilies and roses."
—Excerpted from
2009 Saints Calendar
Things To Do: