Move to:
Previous Day
|
Next Day
Ordinary Time: October 18th
Feast of St. Luke, Evangelist
Other Commemorations: St. Peter of Alcántara, Priest (RM)
» Enjoy our Liturgical Seasons series of e-books!
St. Luke, the inspired author of the third Gospel and of the Acts of the Apostles, was a native of Antioch in Syria and a physician, and one of the early converts from paganism. He accompanied St. Paul on a considerable part of his missionary journey. He was also his companion while in prison at Rome on two different occasions. His account of these events, contained in the Acts, is firsthand history.
Luke's Gospel is, above all, the Gospel of the Merciful Heart of Jesus. It emphasizes the fact that Christ is the salvation of all men, especially of the repentant sinner and of the lowly. Legend says that Luke painted the Blessed Virgin's portrait. It is certainly true that he painted the most beautiful word-picture of Mary ever written.
---
St. Luke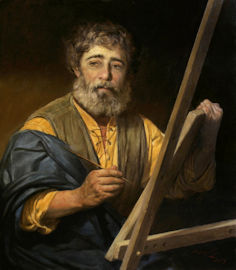 St. Luke came from Antioch, was a practicing physician when he was converted by St. Paul. He attached himself to the Apostle and accompanied him on most of his missionary journeys and was still with him in Rome when St. Paul was in prison awaiting death. We hear no more of him afterwards and nothing is known of his last years.
Because of his closeness with St. Paul, Luke acquired the information about the life of the early Christian communities which he recorded in the Acts of the Apostles from St. Paul's teaching and a study of all the traditionas of our Lord's life. Luke wrote the third Gospel, which St. Jerome called "Paul's Gospel." To St. Luke's Gospel we owe most of our knowledge of Christ's childhood and some precious details about our Lady. He also preserved some of the most touching of our Lord's parables, for example those of the lost sheep and the prodigal son. Dante styles him "The historican of Christ's meekness."
Among the four animals of Ezechiel's vision, the ox represents St. Luke because the beginning of his Gospel mentions the priesthood of Zachary, and because oxen were sacrificed in the Old Law. The ox of Ezechiel's vision, taken by Christian art as a symbol of the third Evangelist, recalls for us the stable of Bethlehem and the details of he hidden life which Mary pondered in her heart and Luke reveals to us in his Gospel.
St. Luke's Gospel is principally concerned with salvation and mercy; in it are preserved some of our Lord's most moving parables, like those of the lost sheep and the prodigal son. Dante calls St. Luke the "historian of the meekness of Christ." It is also St. Luke who tells us the greater part of what we know about our Lord's childhood.
"According to tradition he was an artist, as well as a man of letters; and with a soul alive to all the most delicate inspirations, he consecrated his pencil to the holiest use, and handed down to us the features of the Mother of God. It was an illustration worthy of the Gospel which relates to the divine Infancy; and it won for the artist a new title to the gratitude of those who never saw Jesus and Mary in the flesh. Hence St. Luke is the patron of Christian art."
St. Luke did not personally know our Lord, and like St. Mark, the author of the second Gospel, he is not included among the apostles. For this reason the Gospel chosen for their feast is the account of the sending forth of the seventy-two disciples. According to St. Jerome, St. Luke died in Achaia (Greece) at the age of 84, and it is unknown whether or not he died a martyr's death. His name means "bringer of light" (= luke).
—Excerpted from The Liturgical Year, Abbot Gueranger O.S.B.
Patronage: artists; bachelors; bookbinders; brewers; butchers; doctors; glass makers; glassworkers; glaziers gold workers; goldsmiths; lacemakers; lace workers; notaries; painters; physicians; sculptors; stained glass workers; surgeons; unmarried men; Worshipful Company of Butchers; Worshipful Company of Painters; Capena, Italy; Hermersdorf, Germany; Petrovac, Bosnia and Herzegovina
Symbols and Representation: Winged ox; winged calf; ox; picture of the Virgin; palette and brushes; phials of medicine; physician's robes; easel; book and pen; hatchet; wooden horse; books of his Gospel and of the Acts; bishop; painting an icon of our Lady.
Highlights and Things to Do:
Read the Acts of the Apostles. St. Luke accompanied St. Paul on his missionary journeys — we could spiritually adopt a missionary and accompany him or her with our prayers.
See St. Luke, Evangelist and Artist by Jennifer Gregory Miller for some excellent ideas on how to incorporate this feast into your family life.
St. Luke depicted Mary vividly in words. Learn and pray the three precious canticles preserved for us by him — the Benedictus, the Magnificat, and the Nunc Dimittis.
Pray for doctors and those who care for the sick through the intercession of St. Luke, patron of physicians.
There are four icons that attributed to St. Luke.
See Christian Iconography for some beautiful images of St. Luke.
Foods this day to honor St. Luke would include some beef dish, as he is known as the "ox" and is the patron of butchers. For dessert, bake some raisin Banbury Tarts to evoke the festivals of England on this day, or a cake in the shape of a book with decorations of a calf or ox for this evangelist.
Today is also known as "Sour Cakes Day" in Scotland, because baked cakes were eaten with sour cream in Rutherglen.
Try some of the fun recipes for St. Luke at Catholic Cuisine.
Around this feast is known as "St. Luke's Little Summer," a period of summer-like days that occur around October 18 named to honor the saint's feast day. It's similar to the the term "Indian Summer," which officially occurs between November 11-20). St. Luke gives us some golden days before the cold of winter.
Read more about St. Luke and his writings:
Read about his relics and churches dedicated to St. Luke.
---
St. Peter of Alcántara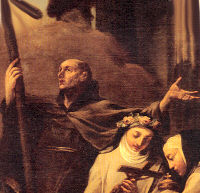 Peter, surnamed Alcántara after the town of his birth, was eminent among the saints of the sixteenth century for an extraordinary spirit of penance and for attaining the heights of contemplation. He was a great mystic. Born in 1499, at the age of sixteen he entered the Order of Friars Minor. He was an apostle of spiritual reform in his own community and aided St. Teresa in her reform of the Carmelites. God revealed to her that no one would remain unheard who begged in the name of Peter; thereafter she was most eager to have his prayers and honored him as a saint while he was still alive. With great humility Peter shunned all favors from eminent personages, even though they esteemed him as the mouthpiece of God or asked his counsel; for instance, he declined the request to act as confessor to Charles V. Although she was at quite a distance at the time of his death, St. Teresa saw his soul entering heaven. Later he appeared to her and said: "O happy penances which won for me such blessedness!"
—Excerpted from The Church's Year of Grace, Pius Parsch
Patronage: Brazil (named by Pope Blessed Pius IX in 1862); Estremadura, Spain (named in 1962); night watchmen
Symbols and Representation: Cross of twigs or boughs; ladder and star; dove; star; dressed in Franciscan habit.
Highlights and Things to Do:
Born of wealthy parents, highly educated, and eminently successful, Peter of Alcantara left all things so that he might find in the poverty of Christ the inestimable riches of God. Meditate on how to be poor in spirit (Fr. Thomas Dubay's book, Happy Are You Poor: The Simple Life and Spiritual Freedom, is a good place to start).
Read more about St. Peter:
Pray for all those with power, authority, status, privilege and assets, that they will come to Jesus in humility and poverty of spirit and that as a result of this on-going conversion, they will change their ways and manners of living.
Imitate St. Peter's self-denial by fasting and sacrificing a little sleep so as to attend early morning Mass.
See his Founder's Statue in St. Peter's Basilica.