Catholic Prayer: Magnificat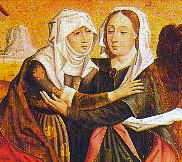 Description:
The Magnificat is the canticle from Luke 1:46-55 chanted by the Blessed Virgin in thanksgiving for the privilege of becoming the Mother of God and for God's goodness in redeeming mankind. To understand this prayer more perfectly, it would help if we visualized ourselves present at the great hour in which it was first uttered. Mary had received the message from an angel that she was to be the Mother of the Son of God. She cannot fully understand that great grace and has no one to whom she can pour out her bursting heart. She goes into the hill country of Judea to visit her cousin Elizabeth, who was favored with a somewhat similar blessing. Divinely enlightened, Elizabeth greeted and received Mary as the Mother of her God. Now Mary can no longer restrain the lofty emotions within her soul; she gives vent to a heart overflowing with gratitude. She prays the Magnificat. She thanks God for the great dignity that has come to her and for the redemption that it brings to men.

The Magnifcat very early found its place in the liturgy; already in the fourth century it formed part of the Office, and one tradition credits St. Benedict for having introduced it into Vespers.
Prayer:
My soul magnifies the Lord,
And my spirit rejoices in God my Savior.
For He has regarded the low estate of His handmaiden,
For behold, henceforth all generations shall call me blessed.
For He who is mighty has done great things for me, and holy is His name.
And His mercy is on those who fear Him from generation to generation.
He has shown strength with His arm:
He has scattered the proud in the imagination of their hearts.
He has put down the mighty from their thrones, and exalted those of low degree.
He has filled the hungry with good things; and the rich He has sent empty away.
He has helped His servant Israel, in remembrance of His mercy;
As He spoke to our fathers, to Abraham and to His posterity forever.
Glory be to the Father and to the Son and to the Holy Spirit.
As it was in the beginning, is now and ever shall be, world without end. Amen
Scripture text: Revised Standard Version - Catholic Edition
Magnificat anima mea Dominum;
Et exultavit spiritus meus in Deo salutari meo,
Quia respexit humilitatem ancillae suae;
ecce enim ex hoc beatam me dicent omnes generationes.
Quia fecit mihi magna qui potens est, et sanctum nomen ejus,
Et misericordia ejus a progenie in progenies timentibus eum.
Fecit potentiam brachio suo;
Dispersit superbos mente cordis sui.
Deposuit potentes de sede, et exaltavit humiles.
Esurientes implevit bonis, et divites dimisit inanes.
Sucepit Israel, puerum suum, recordatus misericordiae suae,
Sicut locutus est ad patres nostros, Abraham et semeni ejus in saecula.
Gloria Patri, et Filio, et Spiritui Sancto.
Sicut erat in principio, et nunc, et semper, et in saecula saeculorum. Amen.
Prayer Source:
Church's Year of Grace, Volumes 1-5 by Dr. Pius Parsch, The Liturgical Press, Collegeville, Minnesota, 1964