Move to:
Previous Day
|
Next Day
Ordinary Time: November 27th
Thursday of the Thirty-Fourth Week of Ordinary Time
Other Commemorations: Our Lady of the Miraculous Medal (Hist)
» Enjoy our Liturgical Seasons series of e-books!
What is man that You magnify him, and that You are concerned about him; that You examine him every morning and try him every moment? "Will You never turn Your gaze away from me, nor let me alone until I swallow my spittle?" Have I sinned? What have I done to You, O watcher of men? Why have You set me as Your target, so that I am a burden to myself? "Why then do You not pardon my transgression and take away my iniquity? For now I will lie down in the dust; and You will seek me, but I will not be."
---
Thanksgiving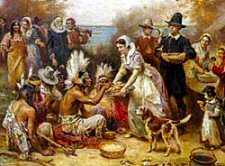 The holiday of Thanksgiving is celebrated in the United States with family gatherings and traditional foods. The Church also has a special liturgy for this day. The Entrance Antiphon sets the tone for our religious observance, "Sing and play music in your hearts to the Lord, always giving thanks for everything to God the Father in the name of our Lord Jesus Christ (Eph 5:19-20). Eucharist means Thanksgiving and we should be especially grateful for this most sublime gift. We hope you will enjoy some our recipes and suggestions for this day. Let's try to celebrate as Christians remembering to be temperate as we carve the turkey and eat the pies.
The following suggested petitions would make a nice addition to our meal prayers:
That the Church throughout the world will more vigorously thank the Lord for His kindness towards His children. Lord hear our prayer.

That the government of our beloved country will never forget to praise and thank the Almighty who is the generous Giver of each gift. Lord hear our prayer.

That those who suffer may recall that God still loves them and wants to lead them to unending peace in the next world. Lord hear our prayer.

That all Americans on Thanksgiving Day will be blessed with a fresh awareness of the loving Most Blessed Trinity from whom all good things come. Lord hear our prayer.

That those Americans who have no faith in God may be touched by grace this day and seek the Creator of the universe. Lord hear our prayer.

That the faithful departed will soon gather around God's altar in paradise where they will joyfully thank Him for ever. Lord hear our prayer.
Things to Do:
Invite someone to dinner who has no place to go for Thanksgiving.
If you have no other commitments volunteer to help serve Thanksgiving dinner at a place which is serving the poor.
---
Our Lady of the Miraculous Medal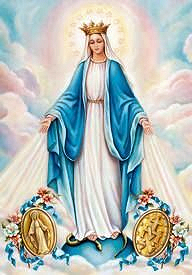 In the year 1830, Our Lady appeared to St. Catherine Labouré, a Daughter of Charity in Paris, and told her that God had a mission for her. Standing upon a globe, the Virgin Mary held a golden ball which she seemed to offer to God, and on her fingers were rings with gems that emitted rays of light. She told St. Catherine, "These rays symbolize the graces I shed upon those who ask for them. The gems from which rays do not fall are the graces for which souls forget to ask." Afterward, the ball, symbolizing the world and each person, disappeared, and she held her hands outstretched in the manner of a loving mother, while rays of light continued to cascade upon the globe at her feet as she stood atop the serpent's head. Framing the image in an oval were the words, "O Mary, conceived without sin, pray for us who have recourse to thee." St. Catherine then saw an image of an M upon which was a cross. Underneath the M was Our Lord's heart crowned with thorns and Our Lady's heart pierced by a sword. Surrounding this image were 12 stars. The Blessed Virgin instructed St. Catherine to have a medal made of these images, and she promised many graces to all who wear it.
Highlights and Things to Do: