Move to:
Previous Day
|
Next Day
Ordinary Time: September 22nd
Saturday of the Twenty-Fourth Week of Ordinary Time
Other Commemorations: Sts. Maurice and Companions, Martyrs (RM); The Theban Legion, Martyrs (RM)
» Enjoy our Liturgical Seasons series of e-books!
St. Thomas of Villanova (1488-1555), a great saint of the Spanish Renaissance and a good friend of Emperor Charles V was a man of infinite charity in word and deed and lived as frugally as the poor who benefited by his unstinted almsgiving. While provincial of his order in Castile, he sent the first group of Augustinians to the Americas. Establishing themselves in Mexico, they were integral in the growth of Christianity in the New World. This date was also the commemoration of Sts. Maurice and Companions, Christian soldiers who were massacred in Switzerland because they refused to offer sacrifices to pagan gods. Before the reform of the General Roman Calendar today was his feast.
---
St. Maurice and Companions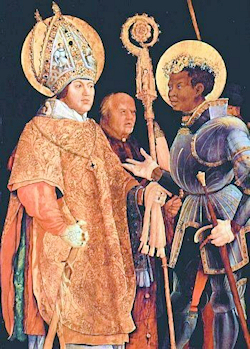 St. Maurice was an officer in the Theban Legion, a unit in the army of the Emperor Maximian Herculius. This Legion, from Upper Egypt, was entirely Christian, and when Maximian ordered his soldiers at Octodurum (now called Martigny, Switzerland) to sacrifice to the gods as a way of ensuring victory in battle, Maurice and two other officers led the Theban Legion in refusing, and thelegion with drew to Agaunum (now St.-Maurice, in the Swiss Canton of Valais). With Maurice encouraging the legionnaires to remain constant, even after the Emperor had the legion decimated (every tenth man killed), the legionnaires answered, "We have arms in our hands, but we do not resist because we would rather die innocent than live by any sin." Maximian ordered the rest of his army to kill the Christian legionnaires. This happened around the year 287 A.D.. The Theban Legion numbered about 6,600 men, but the actual number killed remains unclear. Others were martyred for refusing to share in the spoils of the legionnaires. St. Eucherius, a fifth-century bishop of Lyons, noted that many miracles took place at the shrine of these martyrs. They are buried under the Basilica of St.-Maurice-en-Valais in Switzerland.
Devotion to St. Maurice spread throughout Europe. He is the patron of places in Italy, France, Germany, Spain and Switzerland. Eight ancient English churches are dedicated to him.—Excerpted from
2020 Saints Calendar & Daily Planner
, Tan Books
Patron:
Against gout; against cramping; against arthritis; Alpine troops; armies; Austria; clothmakers; dyers; infantrymen; Piedmont, Italy; Sardinia; soldiers; swordsmiths; weavers.
Symbols:
Armour; banner with lion rampant; sword; seven stars; eagle on a shield; red cross;
Often Portrayed As: soldier; soldier being executed with other soldiers; knight (sometimes a Moor) in full armour, bearing a standard and a palm; knight in armour with a red cross on his breast, which is the badge of the
Sardinian Order of Saint Maurice
.
Things to Do:
---
The Theban Legion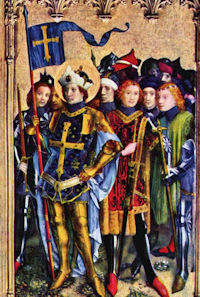 The Theban legion numbered more than six thousand men. They marched from the East into Gaul, and proved their loyalty at once to their Emperor and to their God. They were encamped near the Lake of Geneva, under the Emperor Maximian, when they got orders to turn their swords against the Christian population, and refused to obey. In his fury Maximian ordered them to be decimated. The order was executed once and again, but they endured this without a murmur or an effort to defend themselves.

St. Maurice, the chief captain in this legion of martyrs, encouraged the rest to persevere and follow their comrades to heaven. "Know, O Emperor," he said, "that we are your soldiers, but we are servants also of the true God. In all things lawful we will most readily obey, but we cannot stain our hands in this innocent blood. We have seen our comrades slain, and we rejoice at their honor. We have arms, but we resist not, for we had rather die without shame than live by sin."
As the massacre began, these generous soldiers flung down their arms, offered their necks to the sword, and suffered themselves to be butchered in silence.—Excerpted from
Lives of the Saints
, by Alban Butler, Benziger Bros. ed. [1894] The commemoration of these martyrs has also been called
The Feast of the Forty Martyrs
.
Things to Do: