Move to:
Previous Day
|
Next Day
Lent: March 6th
Monday of the Second Week of Lent
Other Commemorations: St. Colette, Virgin and Religious (RM)
» Enjoy our Liturgical Seasons series of e-books!
The greatest proof of Christ's charity was given on the Cross. With Christ our gift of ourselves will be given to God as an expression of our love. Communion will lift our human activities up to God's level, not only in will and intention, but in the reality of the sacrament. Let us offer then, and believe, and change our lives into more loving. —St. Andrew Bible Missal
The Roman Martyrology commemorates St. Colette (1381-1447), who revived the Franciscan spirit among the Poor Clares. Her reform spread throughout France, Savoy, Germany, and Flanders, many convents being restored and seventeen new ones founded by her. She helped St. Vincent Ferrer in the work of healing the papal schism.
---
Meditation—The Value of Fasting

Is fasting really worthwhile? Whenever I consider the value of a religious practice, I always look into the earthly life of our Savior. He is our model. He dwelt with us in order to teach us how to form our lives inwardly and outwardly. Christ Himself fasted often and accorded it high praise in His teaching. Recall how He fasted forty days before entering upon His work of teaching. At the beginning of Lent the Church wishes to stamp this fact deep in our hearts: our fasting must be in union with and in imitation of Christ's.
I call to mind the mystery-laden, pregnant words spoken by our Savior when the disciples, unable to cure a possessed boy, asked, "Why could we not cast him out?," and Jesus answered, "This kind can be driven out in no way except by prayer and fasting" (Mark 9:29). This reply has always made the deepest impression on me. Prayer and fasting are extraordinary means (we may call them violent means) when other simpler ways are of no avail against the powers of hell.
Now another saying of Jesus comes to mind. When John's disciples began to reproach Him, "Why do Your disciples not fast?," He replied: "Can you make the wedding guests fast as long as the bridegroom is with them? As long as they have the bridegroom with them, they cannot fast. But the days will come when the bridegroom will be taken away from them; in those days they will fast" (Luke 5:35). There is a hidden depth of meaning in these words. The coming of Christ among men was a wedding feast. Fasting had no place. But it is most proper too fast when the divine Bridegroom is taken away. Fasting on Fridays and during Holy Week, then, is in accord with Christ's own wishes.
I should like to cite one further passage from the Gospel, one which casts light on fasting from another direction. Once our Savior compared Himself with the Baptist in these words, "John came neither eating nor drinking, and they say, 'He has a devil!' The Son of Man came eating and drinking, and they say, 'Behold a glutton and a wine drinker.'" John was a man devoted to penance, an ascetic, who fasted throughout his life. Not so Christ. His way of living was not based exclusively upon self-denial and mortification, but upon an ordered enjoyment of life. So we learn from the Savior that fasting should be the exception, not the rule, in Christian morality.
To complete the lesson let us consider for a moment the passage in the Sermon on the Mount where Jesus speaks of the three important pious exercises of fasting, prayer, and almsgiving. He highly recommends all three, but warns against practicing these virtues in a pharisaical manner.
The main points in Jesus' doctrine on fasting, then, are:
Fasting is an extremely important means of resisting the inroads of hell (hence Lent).

Fasting should be practiced as a memorial of Christ's death (Friday, Holy Week).

Fast days occur by way of exception in Christian life, they are not the normal practice.

Fasting holds a place alongside prayer and almsgiving as a pious exercise.
—Excerpted from The Church's Year of Grace, Pius Parsch.
---
St. Colette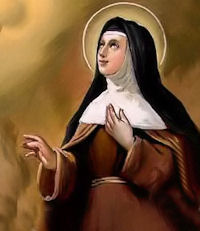 Born in 1380, Nicolette was named in honor of St. Nicholas of Myra. Her loving parents nicknamed her Colette from the time she was a baby. Colette's father was a carpenter at an abbey in Picardy. Quiet and hard-working, Colette was a big help to her mother with the housework. Her parents noticed the child's liking for prayer and her sensitive, loving nature.
When Colette was seventeen, both her parents died. The young woman was placed under the care of the abbot at the monastery where her father had worked. She asked for and received a hut built next to the abbey church. Colette lived there. She spent her time praying and sacrificing for Jesus' Church. More and more people found out about this holy young woman. They went to see her and asked her advice about important problems. They knew that she was wise because she lived close to God. She received everybody with gentle kindness. After each visit, she would pray that her visitors would find peace of soul. Colette was a member of the Third Order of St. Francis. She knew that the religious order of women who followed St. Francis' lifestyle are the Poor Clares. They are named after St. Clare, their foundress, who was a follower of St. Francis. During Colette's time, the Poor Clares needed to go back to the original purpose of their order. St. Francis of Assisi appeared to Colette and asked her to reform the Poor Clares. She must have been surprised and afraid of such a difficult task. But she trusted in God's grace. Colette traveled to the Poor Clare convents. She helped the nuns become more poor and prayerful.
The Poor Clares were inspired by St. Colette's life. She had a great devotion to Jesus in the Eucharist. She also spent time frequently meditating on the passion and death of Jesus. She loved Jesus and her religious vocation very much.
Colette knew exactly when and where she was going to die. She died in one of her convents in Ghent, Flanders, in 1447. She was sixty-seven. Colette was proclaimed a saint by Pope Pius VI in 1807.
—Excerpted from Holy Spirit Interactive
Symbols and Representation: birds; lamb; woman being carried to heaven by an angel; woman delivering a soul from purgatory; Poor Clare nun holding a crucifix and a hook; Poor Clare nun visited by Saint Anne, Saint Francis of Assisi, and/or Saint Clare of Assisi in a vision; Poor Clare nun walking on a stream
Patronage: against eye disorders; against fever; against headaches; against infertility; against the death of parents; craftsmen; Poor Clares; servants; Corbie, France; Ghent, Belgium
Highlights and Things to Do:
---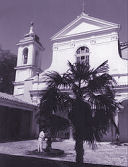 Monday of the Second Week of Lent
Station with San Clemente (St. Clement):The oldest level of St. Clement's is thought to be the titulus Clementis, one of the first parish churches in Rome, and probably belonged to the family of Titus Flavius Clemens, consul and martyr and a contemporary of Pope St. Clement. Set right next to a pagan temple, a Mithraeum or Temple of Mithras, it was one of the first churches in Rome.
For more on San Clemente, see:
For further information on the Station Churches, see The Stational Church.