Move to:
Previous Day
|
Next Day
Lent: March 16th
Wednesday of the Second Week of Lent
Other Commemorations: St. Heribert, archbishop (RM); St. Jean Brebeuf (RM)
» Enjoy our Liturgical Seasons series of e-books!
---
Gospel (excerpt), Matthew 20:25-28:
But Jesus called them to him and said, "You know that the rulers of the Gentiles lord it over them, and their great men exercise authority over them. It shall not be so among you; but whoever would be great among you must be your servant, and whoever would be first among you must be your slave; even as the Son of man came not to be served but to serve, and to give his life as a ransom for many."
---
The stational church today is at St. Cecilia's where the body of the illustrious martyr is preserved.
The Gospel reminds us of the necessity of sharing in the sufferings of Christ, to "drink of His chalice" in order to share also in His glory in His kingdom. Linked with the foretelling of the passion is the important teaching of self-denial for the service and salvation of others; it is here put before us in urgent fashion.According to the
Roman Martyrology
, today commemorates
St. Heribert
, who was Archbishop of Cologne and Chancellor of Holy Roman Emperor Otto III, and was canonized in 1074.
St. Jean Brebeuf
is also included for today, but in the United States is celebrated on
October 19
.
---
Meditation—The Faults of Our Neighbor
In disagreements between you and your neighbor, you must always remember that to be in the right is the consideration that influences a Christian the least. The philosopher may indulge such a satisfaction. But to be in the right and to act as if one were not, to allow one's opponent to triumph on the side of injustice,-this means to overcome evil by good, and to secure peace for one's soul. No more convincing argument for your own vindication is required than the silent exterior acknowledgment that you are in the wrong. He who edifies does more for the truth than he who is zealous for the combat. Instead of trying to refute those that are in the wrong, it is better to pray for them. A stream flows much more rapidly when nothing is done to hold it back. Pray for those who are prejudiced against you, never become embittered against them, pity them, await their return to better feelings, and help to free them from their prejudices. One would not be human if he does not feel how easy it is to stray, and how much it costs to acknowledge this. The spirit of meekness, of indulgence, of patience and humility in examining the behavior of others toward us, secures us that peace of mind which is not compatible with the jealous, suspicious sensibilities of self-love.
— Fénelon
Things to Do:
Read this thought-provoking article by George Rutler, Why We Need Lent, to understand why such a season of mortification is necessary for us to become saints.
---
Saint Heribert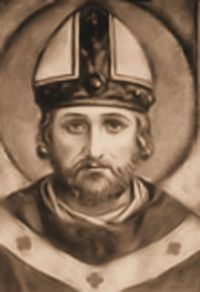 Heribert was born in Worms and he was the son of Hugo, count of Worms. He was educated in the school of Worms Cathedral and at the Benedictine Gorze Abbey in Lorraine, France. He returned to Worms Cathedral to be provost and was ordained a priest in 994.
In the same year, Otto III appointed him chancellor for Italy and four years later also for Germany, a position which he held until Otto's death on 23 January 1002. Heribert was made an archbishop of Cologne on 998. Then, he also served Emperor St. Henry.Heribert built the monastery of Deutz, on the Rhine and performed miracles, including ending a drought. He is thus invoked for rains.He died in Cologne on March 16, 1021 and was buried at Deutz.He was already honored as a saint during his lifetime and was canonized by Pope St. Gregory VII about 1074.—©Evangelizo.org
Patron:
Rain
Things to Do:
Watch this short video from gloria.tv on St. Heribert of Cologne.
Read more about St. Heibert at New Advent.
---

Wednesday of the Second Week of Lent
Station with Santa Cecilia in Trastevere (St. Cecilia):
The Station is at the church of St. Cecelia where the Saint lived and was martyred and where her body now rests. The first church on the site was built in the 3rd or 5th century, and the baptistery from this church was found during excavations, situated underneath the present Chapel of Relics. A house from the Imperial era was also found, and tradition claims that the church was built over the house in which St Cecilia lived. This house was one of the tituli, the first parish churches of Rome, known as the titulus Ceciliae.

For further information on the Station Churches, see The Stational Church.