Catholic Recipe: Eggplant Gratin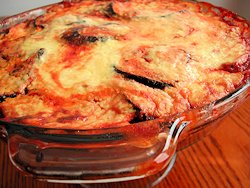 Also Called: Adapted from Barefoot Contessa
This recipe taken from "My Catholic Kitchen" was originally an Ina Garten recipe. She is a TV host, cookbook author and recipe developer, former gourmet food store owner and former Policy Analyst for the White House. The original recipe called for the cook to fry the eggplant in a frying pan in batches. Instead all the eggplants were put under a broiler and it worked fine. If you want to do it the frying pan method, get the recipe here.
DIRECTIONS
Preheat the oven to broil.
Cut the eggplant into 1/8 inch slices. sprinkle salt and pepper and olive oil on them toss to combine. Arrange eggplant on a broiler pan. Broil until golden brown. Turn and brown on other side. Set eggplant aside to cool.
Reset oven to 400 degrees.
Meanwhile, in a small bowl, mix together the ricotta, egg, half-and-half, 1/4 cup of the Parmesan, 1/8 teaspoon salt, and 1/8 teaspoon pepper.
In a gratin dish (I used a pie plate) place a layer of eggplant slices, then sprinkle with Parmesan, salt and pepper, spoon 1/2 of the marinara sauce.
Next, add a second layer of eggplant, more salt and pepper, half the ricotta mixture, and finally 1 tablespoon of grated Parmesan on top.
Place the gratin on a baking sheet and bake for 25 to 30 minutes or until the custard sets and the top is browned. Serve warm.
Recipe Source:
My Catholic Kitchen by Veronica Gantley