Move to:
Previous Day
|
Next Day
Ordinary Time: July 29th
Memorial of Saints Martha, Mary and Lazarus
» Enjoy our Liturgical Seasons series of e-books!
Previous Calendar: St. Martha; Sts. Felix, Simplicius, Faustinus & Beatrice, martyrs
In the household of Bethany the Lord Jesus experienced the family spirit and friendship of Martha, Mary and Lazarus, and for this reason the Gospel of John states that he loved them. Martha generously offered him hospitality, Mary listened attentively to his words and Lazarus promptly emerged from the tomb at the command of the One who humiliated death.
The traditional uncertainty of the Latin Church about the identity of Mary--the Magdalene to whom Christ appeared after his resurrection, the sister of Martha, the sinner whose sins the Lord had forgiven--which resulted in the inclusion of Martha alone on 29 July in the Roman Calendar, has been resolved in recent studies and times, as attested by the current Roman Martyrology, which also commemorates Mary and Lazarus on that day. Moreover, in some particular calendars the three siblings are already celebrated together.Therefore, the Supreme Pontiff Pope Francis, considering the important evangelical witness they offered in welcoming the Lord Jesus into their home, in listening to him attentively, in believing that he is the resurrection and the life, and accepting the proposal of this Dicastery, has decreed that 29 July be designated in the General Roman Calendar as the Memorial of Saints Martha, Mary and Lazarus. This feast is celebrated today both in the Ordinary Form and Extraordinary Form of the Roman Rite. Currently (2021) there is
an interim Mass formulary
at this time. The Entrance and Communion Antiphons from the Memorial of St. Martha found in the Proper of Saints have not been altered, but the Collect, Prayer over the Offerings, and Prayer after Communion have been newly-composed or otherwise adjusted. According to the 1962 Missal of St. John XXIII the Extraordinary Form of the Roman Rite, today is the feast of Sts. Felix, Simplicius, Faustinus & Beatrice. Pope Felix II was martyred in Tuscany, Italy, in the fourth century. The brothers Simplicius and Faustinus and their sister, Beatrice, gave their lives for Christ at Rome, A.D. 303.
---
St. Martha
Martha was born of noble and wealthy parents, but she is still more illustrious for the hospitality she gave to Christ our Lord. After His Ascension into heaven, she was seized by the Jews, together with her brother and sister, Marcella her handmaid, and Maximin, one of the seventy two disciples of our Lord, who had baptized the whole family, and many other Christians. They were put on board a ship without sails or oars, and left helpless on the open sea, exposed to certain shipwreck. But God guided the ship, and they all arrived safely at Marseilles.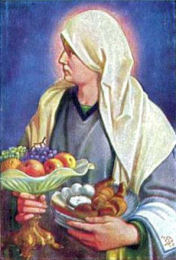 This miracle, together with their preaching, brought the people of Marseilles, of Aix, and of the neighborhood to believe in Christ. Lazarus was made Bishop of Marseilles and Maximin of Aix. Magdalen, who was accustomed to devote herself to prayer and to sit at our Lord's feet, in order to enjoy the better part which she had chosen, that is, contemplation of the joys of heaven, retired into a deserted cave on a very high mountain. There she lived for thirty years, separated from all human intercourse; and every day she was carried to heaven by the angels to hear their songs of praise.But Martha, after having won the love and admiration of the people of Marseilles by the sanctity of her life and her wonderful charity, withdrew in the company of several virtuous women to a spot remote from men, where she lived for a long time, greatly renowned for her piety and prudence. She foretold her death long before it occurred; and at length, famous for miracles, she passed to our Lord on the fourth of the Kalends of August. Her body which lies at Tarascon is held in great veneration.--Excerpted from
The Liturgical Year
, Abbot Gueranger O.S.B.The true identity of Mary, the sister of Martha is unknown. See
the feast of St. Mary Magdalene
and from the Catholic Culture Library
Who Really Was Mary Magdalene? by Father William Saunders
for further explanation.
Patron:
Butlers; cooks; dietitians; domestic servants; homemakers; hotel-keepers; housemaids; housewives; innkeepers; laundry workers; maids; manservants; servants; servers; single laywomen; travellers.
Symbols:
Water pot and asperge; cooking utensils; ladle or skimmer; broom; bunk of keys at her girdle; two asperges; dragon bound with a girdle (symbolizing temptation resisted); torch (symbolizing enlightenment and zeal); censer (symbolizing prayer and worship); boat; covered table with cloth, cups, pitcher and bowl containing fruit.
Things to Do:
Take note of our special project Family and Friends of Jesus Scrapbook Album, which has materials directly related to the feast of St. Martha:

From St. Martha one basic lesson learned is that there is both active and contemplative work. Some vocations require more of one, but we all need to stop and experience quiet to pray, meditate, contemplate. Parents' time allotted for prayer is shorter than unmarried singles or religious, but time should be set aside. Children need to learn to start putting time aside for personal prayer and spiritual reading. This will help to develop good life-long prayer habits.

Another lesson to learn is that we serve Christ our Brother when we serve others through our work, whether it be the daily duty of household chores or other charitable work outside the home. In serving others we serve our Brother Christ.

Since St. Martha is the patron of cooks, today would be a good day to honor and thank the person (usually Mom!) for all her meals she has prepared. Surprise her/him by cooking a special meal or take her/him out to dinner.
An excellent book for meditation called Praying While You Work: Devotions for Use of Martha Rather Than Mary by Dom Hubert Van Zeller. The book has been reprinted by Sophia Institute Press under the name: Holiness for Housewives: And Other Working Women
Read St. Martha, Disciple of the Lord at the Vatican website
Also visit visit Catholic Ireland for St. Martha of Bethany
Visit My Catholic Life and Saints, Feast, Family for more information
---
Sts. Simplicius, Faustinus and Beatrice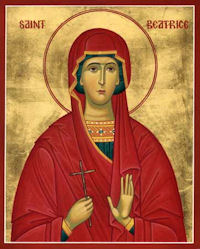 The two brothers were cruelly tormented, and at length beheaded at Rome in the persecution of Diocletian, in the year 303. Their sister Beatrice took up their bodies out of the Tiber and gave them burial. She concealed herself for seven months in the house of a virtuous widow called Lucina, with whom she spent her time, night and day in fervent prayer, and in the exercise of other good works. She was discovered and impeached by a pagan kinsman, who designed to possess himself of her estate, which was contiguous to his own; she resolutely protested to the judge that she would never adore gods of wood and stone, and was strangled by his order in prison the following night. Lucina buried her body near her brothers on the side of the highway to Porto, in the cemetery called Ad Ursum Pileatum. Pope Leo translated their relics into a church which he built to their honor in the city, they now lie in that of St. Mary Major.
Things to Do:
Read more about these saints at New Advent
St. Beatrice is one of the 140 Saints of the Colonnade at St. Peter's Basilica. Read about her statue here
Read about and view the fresco of St. Faustinus in the Cappellina dei Corpi Santi in the the Cappella Nuova here
---
St. Felix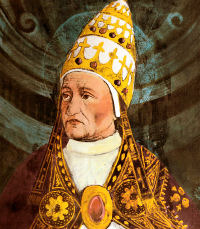 St. Felix was a Roman by birth and succeeded St. Dionysius in the government of the church in 269. Paul of Samosata, the proud bishop of Antioch, to the guilt of many enormous crimes, added that of heresy, teaching that Christ was no more than a mere man, in whom the Divine Word dwelt by its operation, and as in its temple, with many other gross errors concerning the capital mysteries of the Trinity and Incarnation. Two councils were held at Antioch to examine his cause, but by various arts and subterfuges, he escaped condemnation. However, in a third, assembled at the same place in 269, being clearly convicted of heresy, pride, and many scandalous crimes, he was excommunicated and deposed, and Domnus was substituted in his room. Paul still maintained himself in the possession of the episcopal house. The bishop, therefore, had recourse to Emperor Aurelian, who, though a pagan, gave an order that the house should belong to him to whom the bishops of Rome and Italy adjudged it, as Eusebius writes.[1]St. Felix had before declared himself against that heresiarch; for the council had sent the synodal letter to St. Dionysius, who being dead, it had been delivered to St. Felix. It must have been on that occasion that our holy pope wrote to Maximus, bishop of Alexandria, a learned epistle, quoted by the council of Ephesus, St. Cyril of Alexandria, and St. Vincent of Lerins; in which he clearly explained the Catholic doctrine of the whole mystery of the Incarnation. St. Cyril has preserved us a fragment of it.[2]The persecution of Aurelian breaking out, St. Felix, fearless of dangers, strengthened the weak, encouraged all, baptized the catechumens, and continued to exert himself in converting infidels to the faith. He himself obtained the glory of martyrdom; which title is given him by the council of Ephesus,[3] by St. Cyril, 4 and by St. Vincent of Lerins. 5 He governed the church for five years and passed to a glorious eternity in 274. The western Martyrologies name him on the 30th of May.[4]The example of Christ, and of all his saints, ought to encourage us under all trials to suffer with patience, and even with joy. We shall soon begin to feel that it is sweet to tread in the steps of a God-man, and shall find that if we courageously take up our crosses, he will make them light by bearing them with us. The soul will find it sweet to be abandoned by creatures, that she may more perfectly feel their emptiness, and learn that men are false and treacherous. Then will she place her whole confidence in God alone, and cleave to him with her whole heart. Forsaken and forgotten by creatures, she finds no relish but in God who enters her more powerfully, and fills her with his consolations the more sweetly, as she is the more weaned and separated from all earthly things, and more purely adheres to him who never forsakes those who sincerely seek Him. O happy exchange! cries out St. Francis of Sales; the soul thus abandoned in the eyes of men, now possesses God instead of creatures.[5]
Note 1. L. 7, c. 80, p. 282. [back]
Note 2. Apologet. p. 852. [back]
Note 3. Act. 1, Conc. t. 1, p. 512. [back]
Note 4. Apol. t. 3, Conc. p. 852. [back]
Note 5. P. 375. [back]Excerpted from
The Lives of the Fathers, Martyrs, and Other Principal Saints,
Volume 7
Things to Do:
Read more about Pope St. Felix I. here