» Enjoy our Liturgical Seasons series of e-books!
Previous Calendar: St. Peter Celestine, pope and confessor; St. Pudentiana, virgin; St. Ives (RM)
St. Peter Celestine was born in 1221 and retired into the desert when he was hardly an adolescent. His virtues soon drew disciples around him. This was the origin of the branch of the Benedictine order known as the Celestines. According to the 1962 Missal of St. John XXIII the Extraordinary Form of the Roman Rite, today is his feast.
It is also the feast of St. Prudentiana, daughter of a Roman senator, who consecrated herself wholly to Christ and died in the year 160 when she was sixteen. The Roman Martyrology also mentions "St. Yves, priest and confessor, who for the love of Christ, defended the cause of the orphan, the widow and the poor."
---
St. Peter Celestine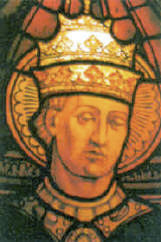 The pious hermit and founder of the Celestine Order, Pietro di Morone, was born about the year 1215, the eleventh of twelve children. After the death of Nicholas IV, a conclave which lasted more than two years elected him pope on July 5, 1294. He became known as Celestine V. Only the chaotic condition of the age plus the intrigue of King Charles II of Naples can explain the selection of this holy man, who obviously was not conversant with the ways of men or of the world.
It soon became evident that the choice had not been a happy one. Feeling himself incapable of bearing the heavy burden, Celestine resigned on December 13, 1294, five months after receiving the tiara, and resumed the cherished, simple life of a monk. He was succeeded by Boniface VII who had reason to fear that his opponents might use the former Pope to create a schism. To prevent such a calamity Celestine was detained under careful guard in the castle of Fumone near Anagni, where a replica of his former monastic cell had been erected. Here he passed the remainder of his life in acts of holy penance. — Excerpted from
The Church's Year of Grace
, Pius Parsch.
Patron:
Aquila, Italy; bookbinders.
Things to Do:
St. Peter Celestine proved one could place a life of humility above the highest ecclesiastical honors. Think of a specific way in which you can imitate him.
Read more about St. Peter Celestine at Catholic News Agency
Read St. Peter Celestine's biography from The Lives or the Fathers, Martyrs and Other Principal Saints by the Rev. Alban Butler
---
St. Pudentiana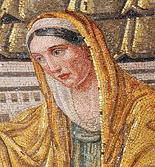 According to an ancient tradition, St. Peter was the guest of the senator Pudens during his stay in Rome. Pudens had two daughters, Pudentiana and Praxedes, virgins who dedicated themselves wholly to acts of charity. After the death of their parents, Pudentiana and her sister Praxedes distributed their patrimony to the poor. The fact that Puden's entire household of some 96 persons were baptized by Pope Pius I (d. 154) is ascribed to their zealous activities. When Christian services were forbidden by the Emperor Antoninus Pius, Pius I celebrated Mass in their home. The saints were buried next to their father in the catacomb of St. Priscilla. One of Rome's most ancient stational churches is dedicated to St. Pudentiana.
— Excerpted from
The Church's Year of Grace
, Pius Parsch.
Things to Do:
---
St. Ives (or Yves or Ivo) Kermartin of Bretagne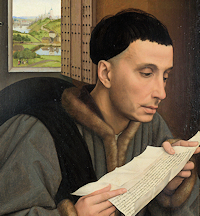 St. Ives, born at Kermartin, near Tréguier, Brittany, 17 October, 1253; died at Louannee, 19 May, 1303, was the son of Helori, lord of Kermartin, and Azo du Kenquis. In 1267 Ives was sent to the University of Paris, where he graduated in civil law. He went to Orléans in 1277 to study canon law. On his return to Brittany having received minor orders he was appointed "official", or ecclesiastical judge, of the archdeanery of Rennes (1280); meanwhile, he studied Scripture, and there are strong reasons for holding that he joined the Franciscan Tertiaries sometime later at Guingamp. He was soon invited by the Bishop of Tréguier to become his "official", and accepted the offer (1284). He displayed great zeal and rectitude in the discharge of his duty and did not hesitate to resist the unjust taxation of the king, which he considered an encroachment on the rights of the Church; by his charity, he gained the title of advocate and patron of the poor. Having been ordained he was appointed to the parish of Tredrez in 1285 and eight years later to Louannee, where he died. He was buried in Tréguier, and was canonized in 1347 by Clement VI, his feast being kept on 19 May. He is the patron of lawyers, though not, it is said, their model, for — "Sanctus Ivo erat Brito, Advocatus et non latro, Res miranda populo." He is noted as being a great preacher and arbitor. He built a hospital with his own money, providing for the sick poor. He is known as a miracle worker, with an instance of feeding hundreds from a single loaf of bread.
— Excerpted from
Catholic Encyclopedia
.
Patron:
abandoned people; advocates; attorneys; bailiffs; barristers; Brittany; canon lawyers; canonists; judges; jurists; lawyers; notaries; orphans.
Symbols:
Scroll with legal seals; law books.
Often represented as:
lawyer enthroned between rich and poor litigants; lawyer holding a book, with an angel near his head and a lion at his feet; lawyer surrounded by suppliants, holding a parchment and pointing upwards; lawyer surrounded by symbols of the Holy Spirit such as doves.
Things to Do: