Move to:
Previous Day
|
Next Day
Ordinary Time: November 3rd
Tuesday of the Thirty-First Week of Ordinary Time; Optional Memorial of St. Martin de Porres, religious
» Enjoy our Liturgical Seasons series of e-books!
Old Calendar: Hubert of Liege (Hist); Commemoration of all the Faithful Departed (transferred) ; Other Titles: Martin of Charity; the Saint of the Broom
Today the Church celebrates the optional memorial of St. Martin de Porres, religious, who lived a life of fasting, prayer and penance as a Dominican lay brother. He was born in Peru of a Spanish knight and a Negro woman from Panama. Martin inherited the features and dark complexion of his mother, and for that reason his noble father eventually turned the boy out of his house. After a turn as a surgeon's apprentice, the young man joined the Dominicans as a laybrother and was put in charge of the infirmary of a friary in Lima. Soon he was caring for the sick of the city and the slaves brought to Peru from Africa — not to mention the animals with which he is often pictured. Martin had the gift of miracles; and although he had no formal training, he was often consulted on theological questions by great churchmen of his day. St. Rose of Lima and Bl. John Massias were among his close friends. He is unofficially called the patron of social justice.
Historically today is the feast of St. Hubert, priest. He was known for his excellent preaching and his generosity to the poor and was the first bishop of Liege.This year, in the current circumstances due to the "Covid-19" pandemic, the
Plenary Indulgences for the deceased faithful
will be extended throughout the entire month of November, with an adaptation of works and conditions to guarantee the safety of the faithful.
---
St. Martin de Porres
St. Martin de Porres was born at Lima, Peru, in 1579. He was the illegitimate son of a Spanish gentleman. His mother was a freed-slave from Panama, maybe black but also possibly of Indian blood. At fifteen, he became a laybrother at the Dominican Friary at Lima and spent his whole life there — as a barber, farm-laborer, almoner, and infirmarian, among other things.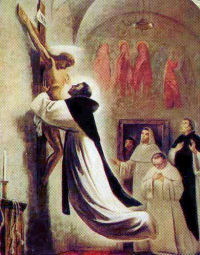 Martin had a great desire to go off to some foreign mission and thus earn the palm of martyrdom. However, since this was not possible, he made a martyr out of his body, devoting himself to ceaseless and severe penances. In turn, God endowed him with many graces and wondrous gifts, such as aerial flights and bilocation. St. Martin's love was all-embracing, shown equally to humans and animals, including vermin, and he maintained a cats' and dogs' hospital at his sister's house. He also possessed spiritual wisdom, demonstrated in his solving his sister's marriage problems, raising a dowry for his niece inside of three days' time, and resolving theological problems for the learned of his Order and for Bishops. A close friend of St. Rose of Lima, this saintly man died on November 3, 1639 and was canonized on May 6, 1962.—Taken in part from
Lives of the Saints
, Rev. Hugo Hoever, S.O.Cist., Ph.D., Catholic Book Publishing Company
Patron:
African-Americans; against rats; barbers; bi-racial people; hair stylists; hairdressers; hotel-keepers; innkeepers; inter-racial justice; mixed-race people; mulattoes; paupers; Peru; poor people; public education; public health; public schools; race relations; racial harmony; social justice; state schools; television.
Things to Do:
Volunteer at a local soup kitchen or do some other act of service for the poor, following the example of St. Martin.
Say a Hail Mary for those sold into slavery in the Sudan where tens of thousands of children and adults have been snatched from their homes, or anywhere in the world where slavery is practiced.
Visit St. Martín de Porres.
---
St. Hubert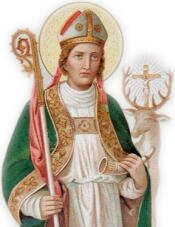 Late in the eighth century, so runs the story, a hunter named Hubert, neither better nor worse than he should have been, was tracking a stag through the forest of the Ardennes. As he readied himself to shoot the animal with his arrow, he was startled when the stag turned suddenly in its flight, and he saw between its antlers a luminous cross. This experience caused Hubert to change his way of life, and he never hunted again. Yet only a few centuries later he was known as the patron of hunters, and is a saint greatly honored in France and Belgium.
Saint Hubert lived a full life. He became bishop of Tongres and traveled through his huge diocese on horseback and by boat, preaching and building churches to the glory of God. He was the friend of the great of his day — Pepin of Heristal and Charles Martel among them — and also of the poor. In particular his heart went out to prisoners, and he would secretly place food for them before their dungeon windows. As he died he said to those about him, "Stretch the pallium over my mouth for I am now going to give back to God the soul I received from Him."In parts of France and Belgium there has long been a custom of holding stag hunts on Saint Hubert's Day, and the hunters gather before the chase for Mass and the blessing of men and horses and dogs. After the hunt is over, those taking part gather for a bountiful breakfast consisting of fish, meat, salad, cheese, and dessert. Naturally the meat is venison of some sort, and the salad may well be one of dandelion greens. Excerpted from
Feast Day Cookbook
by Katherine Burton and Helmut Ripperger, 1955.
Patron:
Archers; dog bite; dogs; forest workers; furriers; hunters; hunting; huntsmen; hydrophobia; liege, Belgium; machinists; mad dogs; mathematicians; metal workers; precision instrument makers; rabies; smelters; trappers.
Symbols:
Bishop celebrating Mass as an angel brings him a scroll; bishop with a hound and hunting horn; bishop with a stag with a crucifix; huntsman adoring a stag with a crucifix in its antlers; kneeling before a stag as an angel brings him a stole; kneeling in prayer, a hound before him and often with hunting gear nearby; knight with a banner showing the stag's head and crucifix; stag; stag with a crucifix over its head; young courtier with two hounds.
Things to Do:
Have roast venison in honor of St. Hubert, patron of hunters. See the recipe section.