Move to:
Previous Day
|
Next Day
Easter: May 4th
Monday of the Fourth Week of Easter
Other Commemorations: The English Martyrs (England); St. Florian, Martyr (RM)
» Enjoy our Liturgical Seasons series of e-books!
According to the 1962 Missal of St. John XXIII the Extraordinary Form of the Roman Rite, this was the feast of St. Monica, widow, Third Class. Her feast in the Ordinary Form of the Roman Rite is celebrated on August 27.
Historically today is the feast of St. Florian, a Roman military officer stationed at Noricum (Austria) who openly declared himself a Christian during the persecution of co-Emperor Diocletian.
---
St. Florian
The St. Florian commemorated in the Roman Martyrology on May 4th, was an officer of the Roman army, who occupied a high administrative post in Noricum, now part of Austria, and who suffered death for the Faith in the days of Diocletian. His legendary "Acts" state that he gave himself up at Lorch to the soldiers of Aquilinus, the governor, when they were rounding up the Christians, and after making a bold confession, he was twice scourged, half-flayed alive, set on fire, and finally thrown into the river Enns with a stone around his neck. His body, recovered and buried by a pious woman, was eventually removed to the Augustinian Abbey of St. Florian, near Linz. It is said to have been at a later date translated to Rome, and Pope Lucius III, in 1138, gave some of the saint's relics to King Casimir of Poland and to the Bishop of Cracow. Since that time, St. Florian has been regarded as a patron of Poland as well as of Linz, Upper Austria and of firemen. There has been popular devotion to St. Florian in many parts of central Europe, and the tradition as to his martyrdom, not far from the spot where the Enns flows into the Danube, is ancient and reliable. Many miracles of healing are attributed to his intercession and he is invoked as a powerful protector in danger from fire or water.
Patronage: against battle; against drowning; against fire; against flood; drowning victims; harvests; barrel-makers; brewers; chimney sweeps; coopers; fire prevention; firefighters; soap-boilers; Worshipful Company of Firefighters; Austria; Poland; Linz, Austria
Symbols and Representation: bearded warrior with a lance and tub; boy with a millstone; classical warrior leaning on a millstone, pouring water on a fire; dead man on a millstone guarded by an eagle; dead man whose body is being protected by an eagle; man being beaten; man on a journey with a hat and staff; man thrown into a river with a millstone around his neck; man with a palm in his hand and a burning torch under his feet; man with a sword; young man, sometimes in armor, sometimes unarmed, pouring water from a tub on a burning church
Highlights and Things to Do:
Read a little more about St. Florian:
St. Florian is patron saint for many, but especially popular with firefighters and brewers. A toast with beer today seems fitting for this saint!
---
The English Martyrs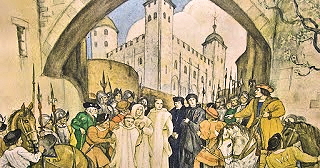 The English Men and Women martyred for the Catholic Faith 1535–1680 and beatified or canonised by the Holy See. On this day in 1535 there died at Tyburn three Carthusian monks, the first of many martyrs, Catholic and Protestant, of the English reformation. Of these martyrs, forty two have been canonised and a further two hundred and forty two declared blessed, but the number of those who died on the scaffold, perished in prison, or suffered harsh persecution for their faith in the course of a century and a half cannot now be reckoned. They came from every walk of life; there are among them rich and poor, married and single, women and men. They are remembered for the example they gave of constancy in their faith, and courage in the face of persecution.
—The Liturgy Office of England and Wales
These forty were canonised by Pope Paul VI on October 25th, 1970. They are representative of the English and Welsh martyrs of the Reformation who died at various dates between 1535 and 1679. Some 200 of these martyrs had already been declared 'Blessed' (i.e. 'beatified') by previous Popes. They include:
| | |
| --- | --- |
| | SS. John Houghton, Robert Lawrence and Augustine Webster, the first martyrs (1535), all priors of different Charterhouses (houses of the Carthusian Order, including the one in London) who, by virtue of the Carthusian vow of silence, refused to speak in their own defense. |
| | St. Cuthbert Mayne, a Devonian, who was the first martyr not to be a member of a religious order. He was ordained priest at the then newly established English College at Douai in Northern France and was put to death at Launceston in 1577. |
| | St. Edmund Campion, the famous Jesuit missionary and theologian who published secretly from Stonor Park, the ancient Catholic country house near Henley-on-Thames, who died in 1581 on the same day as St. Ralph Sherwin, the first martyr to have been trained at the English College in Rome. |
| | St. Margaret Clitherow, the wife of a butcher with a shop in the famous Shambles in York, who allowed her house to be used as a Mass centre, who was sentenced to be crushed to death under a large stone at the Ouse Bridge Tollbooth in the city |
| | St. Philip Howard, eldest son of the fourth Duke of Norfolk (himself executed for treason in 1572) who led a dissolute existence and left behind an unhappy wife in Arundel Castle until he was converted by the preaching of St. Edmund Campion, and died in the Tower in 1595. |
| | St. Nicholas Owen, Jesuit lay brother and master carpenter, who constructed many priests' hiding-holes in houses throughout the country, some of them so cunningly concealed they were not discovered until centuries later (1606). |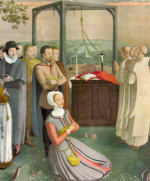 Under James I and Charles I the purge died down, but did not entirely cease. St. John Southworth, missionary in London, was put to death under Cromwell and is venerated in Westminster Cathedral, and the final martyrs died in the aftermath of the Titus Oates plot in 1679. [SS. John Fisher & Thomas More are not included in this list for they had been canonized in 1935].
—Taken from Sacred Heart Parish, Waterloo
Highlights and Things to Do:
If you would like to learn more about the Forty Martyrs you can purchase a pamphlet published by the Catholic Truth Society, A Book of Martyrs by Fr John S. Hogan.
For a list of the forty martyrs and a little more information about some of them, you can visit this site.