Explaining the spiritual works of mercy: An opportunity for Pope Francis
By Dr. Jeff Mirus ( bio - articles - email ) | Oct 21, 2016
At his general audience on October 12th, Pope Francis announced that he was about to begin a new series in his continuing catechesis on mercy. He plans to devote fourteen audiences to the corporal and spiritual works of mercy. Pope Francis believes a commitment to these works can change the world: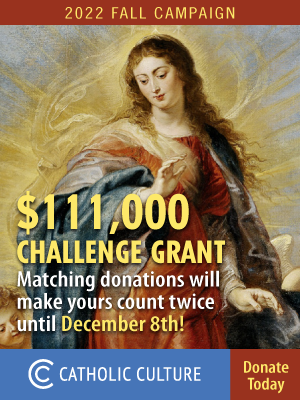 I am convinced that, through these simple, daily actions, we can achieve a true cultural revolution, like there was in the past. If every one of us, every day, does one of these, this will be a revolution in the world! Everyone, each and every one of us.
Francis is right, of course. Unfortunately, he is right in the same way I am right when I say, "If everyone who is registered on CatholicCulture.org would give just five dollars, our mission would be secured." (Sorry, I just couldn't resist.) But there is no question that all of us should recommit ourselves to the daily practice of the corporal and spiritual works of mercy.
On October 19th Francis began with the first corporal work of mercy, feeding the hungry. We do not have the full text in our library yet, but we have reported on the audience in a news story. If the entire series proves to represent some of the Holy Father's best counsel, we will collect these audience addresses into a new ebook, as we did with his catechesis on the family. But this will depend partly on the Pope's treatment of the three spiritual works of mercy which our dominant culture finds abhorrent in Catholics. I mean instructing the ignorant, counseling the doubtful, and admonishing the sinner.
The reception of the spiritual works
The American bishops have a fairly gentle but sound presentation of the spiritual works of mercy on their website. I say "gentle" because it presumes a context of friendship and openness on the part of those who may need instruction or counsel. But in our culture as a whole, these works of mercy are seldom well-received. Pope Francis will face the same problem.
Occasionally even the corporal works of mercy can be viewed by their recipients as a kind of attack. It is not uncommon for pride to interfere with a person's ability to welcome material help. But this is far more common with the spiritual works, because all of these go far beyond bodily needs. They touch the recipient's self-image, inescapably challenging the recipient's openness to God. Even perfect humility, gentleness and tact cannot eliminate hostile reactions to such a challenge. We have this on Christ's own authority:
A disciple is not above his teacher, nor a servant above his master; it is enough for the disciple to be like his teacher, and the servant like his master. If they have called the master of the house Beelzebul, how much more will they malign those of his household. [Mt 10:24-5]
Prudence demands the discernment of openness, of course, but sometimes our love for others demands that we broach what for them may be an unpleasant subject. The old adage applies to all works of mercy, but especially to the spiritual works: Nothing ventured, nothing gained.
The Pope's opportunity
In his exemplary effort to embody the mercy of Christ at all times, Pope Francis has often warned the faithful against both an over-emphasis on mere rules (making them "doctors of the law") and the danger of attempting to convert people in the wrong way and for the wrong reasons ("proselytism"). The difficulty with these cautions (which are always correct in theory) is that we have not been told what situations the Pope has in mind.
We know from the ups and downs of our own lives (or at least I do) that a great deal of spiritual ignorance and doubt is at least partly self-induced. If this were not the case, we would all be far holier by now than we really are. A great many people, including no few who bear the Catholic name, find themselves in a spiritual coma because they prefer the ministrations of the dominant culture to the wiser instruction and counsel of the Church.
Such worldliness confuses moral instruction with mere rules, an invitation to the spiritual riches of the Church with proselytism, and evangelical courage with pride. Catholics today often find themselves victims of this same confusion. Yet the spiritual works of instructing the ignorant, counseling the doubtful and admonishing the sinner cannot be embraced as they should be if the faithful are afraid of putting a foot wrong. In this new series, especially on the spiritual works of mercy, Pope Francis has a wonderful opportunity to restore confidence in a distinctively Catholic mission.
Sound Off!
CatholicCulture.org supporters weigh in.
All comments are moderated. To lighten our editing burden, only current donors are allowed to Sound Off. If you are a current donor, log in to see the comment form; otherwise please support our work, and Sound Off!