Dr. Jeffrey Mirus, Founder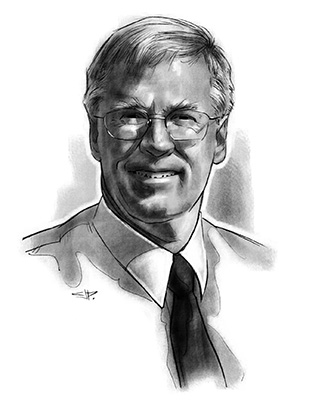 Quick Facts
Founder of Trinity Communications (1985)
Co-founder of Christendom College (1977)
Writer of articles on apologetics, Catholic social teaching, and philosophical/theological issues
eBooks available in CatholicCulture.org's ebook section
Married 51 years, six children, seventeen grandchildren
Enjoys mountain hikes and sailing small boats on rivers, lakes and bays
Bio
Dr. Mirus founded Trinity Communications, the non-profit organization which runs CatholicCulture.org, in 1985. Originally focusing on print publishing, he guided Trinity onto the internet in 1993 and onto the web in 1996. Over time this initial work grew into the current CatholicCulture.org website. He is also one of the chief writers for the site.
Education and Early Work
Mirus received a Ph.D. in Intellectual History from Princeton University in 1973, with a dissertation focusing on Dominican reform and the defense of the Papacy in the Renaissance. During his early teaching career in the University of North Carolina system, he founded and edited the Catholic interdisciplinary journal Faith & Reason.
The Christendom Years
In 1977, Mirus collaborated with Dr. Warren H. Carroll in founding Christendom College. Mirus served as a professor, founded the apologetics program, was the first Director of Academic Affairs, made Faith & Reason the College's journal and founded and directed Christendom Press, and led the fund-raising program. He also co-authored the apologetics text Reasons for Hope and authored The Divine Courtship (Franciscan Herald Press).
Trinity Communications
Pursuing his special interest in Catholic publishing, Dr. Mirus left Christendom College in 1985 to found Trinity Communications, a non-profit corporation with the purpose of advancing and defending the Catholic Faith. In 1993, the company shifted its focus to online publication, and in 1996 founded PetersNet.net, which became CatholicCulture.org in 2003. Read the full history of Trinity Communications.
Family
Jeff and his wife Barbara married in 1972. They live in Manassas, Virginia, where Barbara retired in 2021 as Chair of the English Department and Director of Academic Affairs at the nationally-acclaimed independent Catholic senior and junior high school, Seton School. Jeff and Barbara have six grown children and seventeen grandchildren.
Writing
Jeff Mirus and Phil Lawler serve as the leading writers for CatholicCulture.org. Their purpose is to enrich faith, strengthen the Church and form Catholic culture through the web site's millions of readers around the world. In his own blog and other articles, Mirus leans toward philosophical and theological analysis, apologetics and Catholic social teaching.
Most recently on this site:
View all articles