Catholic Recipe: Children's Punch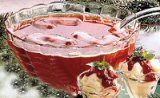 Also Called: Nonalcoholic Punch
New Year's is a day of hospitality among many people, especially the French. In England it was a day set aside for godparents; and godcakes are still given to children on this day in many places. It should be easy to keep New Year's day as a feast on which we honor godparents and repay them for the responsibility they have assumed toward our children.
An idea is to hold open house and let the children's godparents drop in when they please. Have ready beer or ale for grown-ups, and a children's punch. Perhaps you might serve beer which has been blessed and pretzels for grown-ups, punch plus initial cookies for children. Pretzels, incidentally, were originally made in the shape of a hand by medieval monks who gave them to children visitors.
This can be used for many family gatherings and important occasions -- Baptisms, weddings, anniversaries, showers, birthdays, namedays, etc. This punch is not just for children, since we have designated drivers, expectant mothers and others who choose not to drink alcohol, but like a change from just plain coffee, tea, lemonade, water, or soda as choices!
DIRECTIONS
Combine cranberry juice, orange juice, and lemonade concentrate with the pineapple juice and enough ginger ale to make desired strength. Pour over ice in a punch bowl and garnish with maraschino cherries and pieces of pineapple.
Recipe Source:
Christmas to Candlemas in a Catholic Home by Helen McLoughlin, The Liturgical Press, Collegeville, Minnesota