Catholic Activity: Day Eight—Activities for New Year's Day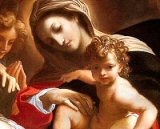 Some ideas to celebrate New Year's Day at home, remembering to keep the spiritual focus.
DIRECTIONS
New Year's Day was formerly the feast of the Circumcision of Our Lord, then it changed to the Holy Name of Jesus, but now it is the Solemnity of Mary, Mother of God. This day has been observed as a holy day of obligation since early times.
Each family and country has different traditional foods to eat on this day, with lentils being the main superstition: ill luck befalling those who do not eat lentils at the beginning of the year. The most popular lentil is the black-eyed pea.
New Year's is a day of hospitality among many people, especially the French. In England it was a day set aside for godparents; and godcakes are still given to children on this day in many places. It should be easy to keep New Year's day as a feast on which we honor godparents and repay them for the responsibility they have assumed toward our children.
An idea is to hold open house. Have ready beer or ale for grown-ups, and a children's punch. Perhaps you might serve beer which has been blessed and pretzels for grown-ups, punch plus initial cookies for children. Pretzels, incidentally, were originally made in the shape of a hand by medieval monks who gave them to children visitors.

Blessing for Beer
[Editor's Note: This blessing is from the older version of the Roman Ritual.]
This prayer attributes the power of brewing to God and asks Him to make the beverage beneficial to man. The father sprinkles beer with holy water and prays:
Bless, O Lord, this created thing, beer, which by Thy power has been made from kernels of grain. May it be a healthful beverage for men; and grant that by invoking Thy holy Name all who drink thereof may find it a help for the body and protection for the soul. Amen.
Jennifer Gregory Miller Jennifer G. Miller
Activity Source: Original Text (JGM) by Jennifer Gregory Miller, © Copyright 2003-2022 by Jennifer Gregory Miller