Catholic Recipe: Speculaas or Speculatius VI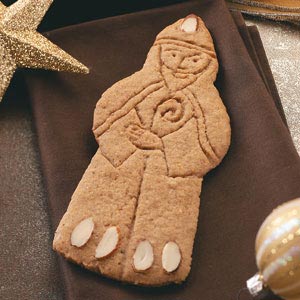 Also Called: St. Nicholas Cookies; Speculaus; Speculatius; Kris Kringle Cookies; Dutch spice cookies
This is an old Dutch recipe for the special cookies that St. Nicholas brings and that are consumed between December 6 and Christmas.
DIRECTIONS
Mix together the sugars, shortening, and the butter. Add condensed milk and spices, gradually blending in the flour and baking soda. Crush the almonds with a rolling pin and mix in. The dough will be somewhat stiff. Roll into logs, cover with wax paper or plastic.
Refrigerate overnight.
Cut into slices (use a mold if you have one) and place on lightly greased cookie sheet. Bake in a preheated oven at 375 degrees for around 10 minutes. Traditionally Speculaas are imprinted with some pattern created by a wooden mold. If you imprint the cookies with such a mold, they will look better.
Recipe Source:
Cooking With the Saints by Ernst Schuegraf, Ignatius Press, 2001