We have $161,609 to go in our Fall Campaign. Every penny is used to strengthen the Church. See details!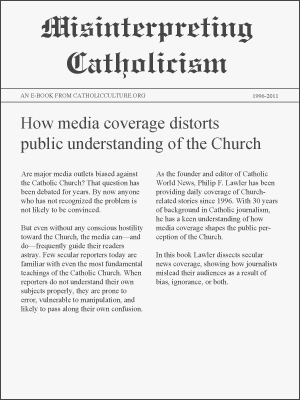 Misinterpreting Catholicism
How media coverage distorts public understanding of the Church
by Philip F. Lawler
Book Description
Are major media outlets biased against the Catholic Church? That question has been debated for years. By now anyone who has not recognized the problem is not likely to be convinced. But even without any conscious hostility toward the Church, the media can—and do—frequently guide their readers astray. Few secular reporters today are familiar with even the most fundamental teachings of the Catholic Church. When reporters do not understand their own subjects properly, they are prone to error, vulnerable to manipulation, and likely to pass along their own confusion. As the founder and editor of Catholic World News, Philip F. Lawler has been providing daily coverage of Church-related stories since 1996. With 30 years of background in Catholic journalism, he has a keen understanding of how media coverage shapes the public perception of the Church. In this book he dissects secular news coverage, showing how journalists mislead their audiences as a result of bias, ignorance, or both.
Table of Contents
Introduction
How to keep the media honest in coverage of the Church
What the media don't notice
Part I: What Journalists Don't Know
Time lags in the news cycles
Another vivid illustration of the need for reliable sources of Catholic news
The religious illiteracy of secular reporting
Out of their depth
So where's the controversy?
Indulgences and the nature of the Church
Religious illiteracy
Can a sinner become a saint? Yes. Why do you ask?
Why you need CWN: illustrated once again
Desecration of the Eucharist: a story not worth telling
Part II: When Bias Is Blatant
Brace yourself for the annual media assault on Christian orthodoxy
Debunking the 'gospel conspiracy' theory
Advance warning: inaccurate news reports coming soon
Of all the Rutten ideas
Worst Story of the Month Award: an early nomination
The bishops and their(?) lobbyists
Part III: When the Media Choose Sides
Anti-Catholic Catholics
Roman Catholic Womenpriests and their journalistic cheerleaders
The Pope's message turned upside-down
Extinction, accepted in 'the Jesuit tradition'
The argument from (anti-Catholic) authority
Part IV: None So Blind
Media malpractice
Apart from the mass killings, things are so pleasant!
The issue that won't go away
Does abstinence cause pregnancy? The Times makes the argument
Icy Vatican reception damaging to Pelosi
The Pope's 'green' message: not standard environmentalism
Ars gratia artis
A 'scandal' the Vatican should love
Part V: A Story Becomes an Obsession
Why is John Paul II on trial in the media today?
Editorial misfire
The trail that doesn't lead to the Vatican
The effort to implicate the Pope
The Pope and the Murphy case: what the New York Times story didn't tell you
Holding the New York Times accountable
Journalists abandon standards to attack the Pope
Tough competition in the media-bias department
Another vicious, inaccurate, and contradictory New York Times attack on Pope Benedict
CNN's appalling attack on the Pope
Angry voices on both sides
Single-issue journalism
Part VI: Sniping at the Pope
'Potential frailty'
The mounting campaign to silence the Pope
Should the Pope clarify his remarks? He already did.
The Pope's uncivil critics
A not-so-rare mistake
Part VII: With Friends Like These
Speaking from ignorance at L'Osservatore Romano
The Welcome mat for Obama
The Vatican newspaper has betrayed the Pope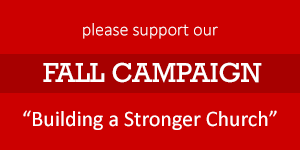 Recent Catholic Commentary
Top Catholic News
Most Important Stories of the Last 30 Days