Catholic Recipe: Genoise Book Cake
Genoise, the French butter spongecake, is the most versatile cake you can make. It is rich, yet light and delicate, and unforgettably delicious. It is a one-bowl cake and not at all difficult when directions are followed.
Suitable to use for nameday celebrations for saints such as Philip the Apostle, Philip Neri, Robert Bellarmine, King David, Thomas Aquinas, Thomas Villanova, Catherine of Siena, Catherine of Genoa, Catherine of Vadstena, Margaret of Scotland, Paul the Apostle, Paul of the Cross, Paul Miki and Companions, Paula, Blessed Paula Frassinetti, Bartholomew, Jude the Apostle, Simon Stock, Matthew the Apostle, Mark the Evangelist, Luke the Evangelist, Helen, Ann, Benedict, Dominic, Francis of Assisi, Clare of Assisi, Teresa of Avila, John Bosco, Madeline Sophie Barat, Julie Billiart, Hugh, Alexis, and Amadeus, Ignatius, Louise de Marillac, Alphonsus Liguouri, Frances Xavier Cabrini, Louis Grignion de Montfort, John Eudes, Therese Lisieux, Mildred, Etheldreda, Edith of Wilton, Hilda of Whitby, Frideswide, Kevin, Blanche of Castile, Monica, Nonna, Matilda, Mella of Ireland, Olga, and Sylvia.
Also can be used for any Doctor of the Church to designate his/her writings; abbots; founders of religious orders; mothers of saints to indicate their holy instruction of their child.
DIRECTIONS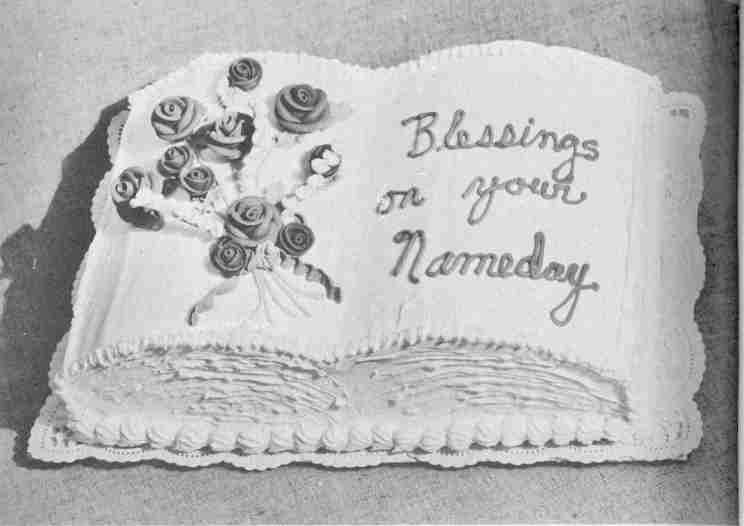 Set oven at 350°. Grease and lightly flour 1 Book Cake pan.
In a large bowl combine 6 eggs and 1 cup of sugar. Stir for a minute, or until they are just combined. Set bowl over saucepan containing 1 or 2 inches of hot water. Water in pan should not touch bowl; nor should it ever be allowed to boil. Place saucepan containing bowl over low heat for 5 to 10 minutes, or until eggs are lukewarm. Heating the eggs helps them whip to greater volume.
It is not necessary to beat them continuously as they are warming. They should, however, be lightly stirred 3 or 4 times to prevent them from cooking at bottom of bowl.
When eggs feel lukewarm to your finger and look like a bright yellow syrup, remove bowl from heat. Begin to beat, preferably with an electric mixer. Beat at high speed for 10 to 15 minutes, scraping sides of bowl with a rubber spatula when necessary, until syrup becomes light, fluffy, and cool. It will almost triple in bulk and look much like whipped cream. It is the air beaten into the eggs that gives genoise its lightness. Beating by hand with a good rotary beater will take about 25 minutes.
Sprinkle 1 cup of sifted flour, a little at a time, on top of the whipped eggs. Fold in gently, adding 1/2 cup slightly cooled, clarified butter and 1 teaspoon of vanilla flavoring. (Clarified butter is pure fat from which milk solids and water have been removed. Place butter in a saucepan and melt over low heat. Cook until foam disappears from top and there is a light brown sediment on the bottom of pan — about 10 minutes. The liquid should be golden, not brown. Pour off the clear butter and leave sediment in the sauce-pan.) Folding can be done with electric mixer turned to lowest speed, or by hand. Be especially careful not to over-mix.
Pour batter into prepared pan. Bake in preheated oven 25 to 30 minutes, or until cake pulls away from sides of pan and is golden brown and springy when touched lightly on top. Remove from pan immediately and cool on cake rack. A frosting, packaged the Seven-Minute Frosting may be used. You can use roses and "Cake-Mate," to write a name on the Book Cake.
Note: This recipe is from our favorite cookbook, The Art of Fine Baking (published by Simon and Schuster) by Paula Peck, who has contributed recipes to, and has had her pastries photographed for The New York Times and Life, and has taught at the James Beard Cooking School. Her kitchen next door fills us with joy at the whiff of the delicious aroma of freshly baked bread, and makes us nostalgic for the magic days of childhood when mother or grandmother made wonderful cake at home.
Recipe Source:
My Nameday — Come for Dessert by Helen McLoughlin, The Liturgical Press, Collegeville, MN, 1962