July 2018 - Overview for the Month
The month of July is dedicated to The Precious Blood of Jesus. The entire month falls within the liturgical season of Ordinary Time, which is represented by the liturgical color green. This symbol of hope is the color of the sprouting seed and arouses in the faithful the hope of reaping the eternal harvest of heaven, especially the hope of a glorious resurrection. It is used in the offices and Masses of Ordinary Time. The last portion of the liturgical year represents the time of our pilgrimage to heaven during which
The Holy Father's Intentions for the Month of July 2018
Evangelization – Priests and their Pastoral Ministry: That priests, who experience fatigue and loneliness in their pastoral work, may find help and comfort in their intimacy with the Lord and in their friendship with their brother priests. (See also Pope's Worldwide Prayer Network)
Feasts for July
The feasts on the General Roman Calendar celebrated during the month of July are:
1. Thirteenth Sunday of Ordinary Time,Sunday
3. Thomas the Apostle,Feast
4. Independence Day (USA),Opt. Mem.
5. Anthony Mary of Zaccaria; Elizabeth of Portugal,Opt. Mem.
6. Maria Goretti,Opt. Mem.
8. Fourteenth Sunday in Ordinary Time,Sunday
9. Augustine Zhao Rong and companions,Opt. Mem.
11. Benedict,Memorial
13. Henry,Opt. Mem.
14. St. Kateri Tekakwitha (USA),Memorial
15. Fifteenth Sunday in Ordinary Time,Sunday
16. Our Lady of Mount Carmel,Opt. Mem.
18. Camillus de Lellis (USA),Opt. Mem.
20. Apollinaris,Opt. Mem.
21. Lawrence of Brindisi,Opt. Mem.
22. Sixteenth Sunday in Ordinary Time,Sunday
23. Bridget,Opt. Mem.
24. Sharbel (Charbel) Makhloof,Opt. Mem.
25. James,Feast
26. Joachim and Anne,Memorial
29. Seventeenth Sunday in Ordinary Time,Sunday
30. Peter Chrysologus; Solanus Casey,Opt. Mem.
31. Ignatius of Loyola,Memorial

Focus of the Liturgy
The Gospel readings for the Sundays in July 2018 are taken from St. Mark and St. John — all are from Year B, Cycle 2.
| | |
| --- | --- |
| July 1st - 13th Sunday of Ordinary Time | This Gospel recounts the healing of Jairus' daughter and the cure of the woman with the issue of blood. |
| July 8th - 14th Sunday of Ordinary Time | In today's Gospel Jesus said that a prophet is not welcome in his own country. |
| July 15th - 15th Sunday of Ordinary Time | Jesus sends out the twelve apostles and gives them authority over unclean spirits. |
| July 22nd - 16th Sunday of Ordinary Time | Jesus invites the Apostles to "come away and rest a while." |
| July 29th - 17th Sunday of Ordinary Time | This Gospel tells the story of the miracle of the loaves and fishes. |
Highlights of the Month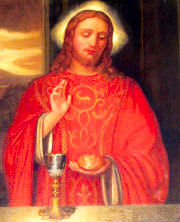 July is usually hot and a time for relaxing. It is also the time when crops planted in the Spring are maturing and growing. Just as the crops are dependent upon summer rains not only to grow but to survive so our spiritual development is dependent upon our frequenting the sacraments and receiving the Blood of Christ.
The main feasts of this month are St. Thomas the Apostle (July 3), St. Anthony Mary and St. Elizabeth of Portugal (July 5), St. Maria Goretti, (July 6), St. Augustine Zhao Rong (July 9), St. Benedict (July 11), St. Henry (July 13), Bl. Kateri Tekakwitha (USA - July 14), Our Lady of Mt. Carmel (July 16), St. Camillus (July 18), St. Apollinaris (Junly 20), St. Lawrence of Brindisi (July 21), St. Bridget (July 23), St. Sharbel (July 24), St. James (July 25), Sts. Joachim and Anne (July 26), St. Peter Chrysologus (July 30), St. Ignatius of Loyola (July 31).
The feasts of St. Junipero Serra (July 1), St. Bonaventure (July 15) and St. Mary Magdalene (July 22) are superseded by the Sunday liturgy.
A Time of Regeneration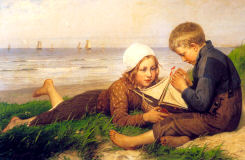 The Blood that coursed through the veins of Christ was a part of that Sacred Humanity made possible by the maternity of Mary, whose parents, St. Joachim and St. Anne are honored this month. (July 26). Our Lord's blood poured out on the Cross purchased our salvation, washed clean the robes of the martyrs, and gave birth to the Church as it flowed from his wounded side. The Precious Blood of Christ — now pulsing through his Mystical Body — continues its salvific work, preserving and purifying, repairing and providing nourishment for regeneration and renewal of its members.
July's longer and warmer days also provide us with the opportunity for renewal, both interior and exterior. Schedules relax and pressures ease, inviting travel. But, whether we travel or not, like the missionary, St. Junipero Serra (July 1), we preach to others — by our conduct, our speech, even the clothes we wear. May we be modest in everything we do, imitating St. Maria Goretti, the young martyr for purity (July 6), and "preaching" Christ to everyone we meet.
The summer Readings of Ordinary Time remind us that our earthly pilgrimage is also a journey, a great adventure towards union with Christ, the Beginning and the End of our journey. Each Sunday with its Easter renewal becomes a mile marker along the way, linking where we have been with where we are going. May the Precious Blood of Jesus sustain us as we journey to our true home, with Mary and the angels as our companions on the way.