Move to:
Previous Day
|
Next Day
Christmas: January 5th
Memorial of St. John Neumann, bishop (USA); Wednesday after the Epiphany
» Enjoy our Liturgical Seasons series of e-books!
St. John Nepomucene Neumann was born in Bohemia. While in the seminary he felt a desire to help in the American missions. After coming to the United States he was ordained in New York in 1836. Entering the Congregation of the Most Holy Redeemer, he worked in establishing parishes and parish schools. In 1852 he was consecrated Bishop of Philadelphia and prescribed the Forty Hours devotion.

St. John Neumann—Day Twelve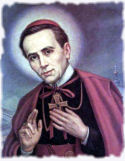 John Neumann was born in Bohemia on March 20, 1811. Since he had a great desire to dedicate himself to the American missions, he came to the United States as a cleric and was ordained in New York in 1836 by Bishop Dubois.
In 1840, John Neumann entered the Congregation of the Most Holy Redeemer (Redemptorists). He labored in Ohio, Pennsylvania and Maryland. In 1852, he was consecrated bishop of Philadelphia. There he worked hard for the establishment of parish schools and for the erection of many parishes for the numerous immigrants. Bishop Neumann died on January 5, 1860; he was beatified in 1963.

St. John Neumann
John Nepomucene Neumann was born on March 28, 1811, the third of six children of a stocking knitter and his wife in the village of Prachatitz in Bohemia. From his mother he acquired the spirit of piety and through her encouragement entered the Seminary at Budweis.During his seminary years, he yearned to be a foreign missionary in America. He left his native land and was ordained in June, 1836 by Bishop John Dubois in New York. He spent four years in Buffalo and the surrounding area building churches and establishing schools.

In 1840, he joined the Redemptorists. Eight years later he became a United States citizen. By order of Pope Pius IX in 1852 he was consecrated fourth Bishop of Philadelphia. His mastery of eight languages proved extremely helpful in his quest for souls. He was a pioneer promoter of the Parochial School System in America.One of the highlights of Saint John Neumann's life was his participation, in Rome, in the Proclamation of the Dogma of our Blessed Mother's Immaculate Conception. Through his efforts, the Forty Hours Devotion was introduced in the Philadelphia Diocese. He founded the first church in America for Italian-speaking people. He also founded the Glen Riddle group of the Sisters of the Third Order of St. Francis.At 48 years of age, completely exhausted from all his apostolic endeavors, he collapsed in the street on January 5, 1860. He is buried beneath the altar of the lower Church in St. Peter's Church in Philadelphia.
Things to Do: