» Enjoy our Liturgical Seasons series of e-books!
Previous Calendar: Easter Tuesday
The first eight days of the Easter season form the Easter octave and are celebrated as solemnities of the Lord. Each day is another little Easter. The Alleluia verse is repeated throughout the octave: "This is the day the Lord has made; let us rejoice and be glad. Alleluia!"
Stational Church
---
The Easter sequence (Victimae paschali) can also be said or sung during the week.
The Gospel continues to relate the story of Christ's resurrection — how Mary Magdalene and the other Mary meet Jesus. Jesus tells them "Do not be afraid. Go tell my brothers to go to Galilee, and there they will see me." We also read about the chief priests paying the Roman guards to spread the story that the disciples came while they were sleeping and stole the body of Christ.During the Easter Season, first reading is from the Acts of the Apostles. Today is Acts 2:36-41. Peter is preaching on the day of Pentecost to the Jews: "The whole House of Israel can be certain that God has made this Jesus whom you crucified both Lord and Christ....You must repent and....be baptized in the name of Jesus Christ for the forgiveness of your sins, and you will receive the gift of the Holy Spirit." They repented, and 3000 were baptized that day. Our Easter joy should be overflowing. A wonderful Ukrainian (and Polish and Slovakian) custom is the greeting of one another with the words:
Khrystos Voskres
(Christ is risen). The answer to this greeting is
Voistynu Voskres
(He is risen, indeed
or
He is truly risen). Let us adopt this custom to our English language and show our Easter joy to all.
---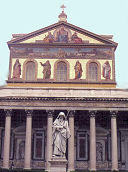 Tuesday in the Octave of Easter
Station at St. Paul Outside the Walls (San Paolo fuori le Mura):
At Rome, the Station for today is in the basilica of St. Paul Outside the Walls. The church is impatient to lead her white-robed newly baptized to the Apostle of the Gentiles. Though he is not the foundation of the Church, he is the companion of Peter's labors in Rome, his fellow-martyr, and the preacher of the Gospel to the Gentiles.