» Enjoy our Liturgical Seasons series of e-books!
Old Calendar: St. John of Capistrano, confessor; St. Gontran, king (Hist)
"There were many lepers in Israel at the time of Eliseus the prophet, and none of them was cleansed but Naaman the Syrian." Naaman's cure, an anticipatory figure of baptism, also declares in advance the universality of salvation. Naaman was the Syrian general who, in obedience to the commands of Eliseus, was cured of leprosy by bathing in the Jordan. At a later date Jesus Himself was to receive in the waters of the Jordan the baptism of John the Baptist. Let us always keep in mind that repentance and a humble confession of our guilt will draw upon us the mercy of God and infuse into our hearts the hope of pardon.
According to the 1962 Missal of Bl. John XXIII the Extraordinary Form of the Roman Rite, today is the feast of St. John of Capistrano whose feast is celebrated in the Ordinary Form of the Roman Rite on October 23.
Stational Church
---
The Need for Mortification Today
Lent is essentially a time of prayer and mortification. The body which has been indulged for so many months must now be denied. Even though fasting and abstinence are impossible for some of us, the penitential spirit may not be shirked. Modern creeds approximate more and more the pagan conception of man, and the penitential spirit is, of course, unbearable to those whose only philosophy of life is the song of the banqueter: "Let us eat, drink and be merry, for tomorrow we die."
Modern civilization scoffs at the notion of doing penance as if it were a vice of the pietist who wants to exalt one side of his nature at the expense of the other, although it is no small thing that the soul should be king of the body. Penance has a deeper significance than that, as I have pointed out. But, says the modern scoffer, "a man is no better and no worse than God made him. God who gave him impulses cannot be angry if he obeys them. Let a man snatch the passing pleasure."In the Cathedral of Lubeck in Germany is a Lenten Monitory which may be taken as God's answer to such blasphemy:
Ye call Me Master, and obey Me not:
Ye call Me Light, and see Me not;
Ye call Me Way, and walk Me not;
Ye call Me Life, and desire Me not;
Ye call Me Wise, and follow Me not:
Ye call Me Fair, and love Me not;
Ye call Me Rich, and ask Me not:
Ye call Me Eternal, and seek Me not;
Ye call Me Gracious, and trust Me not;
Ye call Me Noble, and serve Me not;
Ye call Me God, and fear Me not;
If I condemn you—blame Me not. AmenExcerpted from Message of the Gospels
---
St. Gontran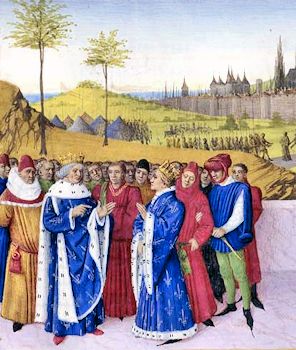 St. Gontran was the son of King Clotaire and grandson of Clovis I and Saint Clotildis. When Clotaire died in 561, his domains were divided among his four sons. While Gontran's brother Caribert reigned at Paris, Sigebert in Metz, and Chilperic in Soissons, he was crowned king of Orleans and Burgundy in 561. He then made Chalons-sur-Saone his capital.

When compelled to take up arms against his ambitious brothers and the Lombards, he made no other use of his victories, gained under the conduct of a brave general called Mommol, than to give peace to his dominions. The crimes in which the barbarous habits of his nation involved him, he effaced by tears of repentance. The prosperity of his reign, both in peace and war, condemns those who suppose that human policy cannot be determined by the maxims of the Gospel, whereas the truth is just the contrary: no others can render a government so efficacious and prosperous.
Saint Gontran always treated the pastors of the Church with respect and veneration. He was the protector of the oppressed, and the tender parent of his subjects. He gave the greatest attention to the care of the sick. He fasted, prayed, wept, and offered himself to God night and day as a victim ready to be sacrificed on the altar of His justice, to avert His indignation, which Saint Gontran believed he himself provoked and drew down upon his innocent people. He was a severe punisher of crimes in his officers and others, and by many wholesome regulations he restrained the barbarous licentiousness of his troops; but no man was ever more ready to forgive offenses against his own person. With royal magnificence, he built and endowed many churches and monasteries. This good king died on the 23rd of March in 593, in the sixty-eighth year of his age, having reigned thirty-one years. Excerpted from
Little Pictorial Lives of the Saints
, a compilation based on
Butler's
Lives of the Saints
and other sources by John Gilmary Shea (Benziger Brothers: New York, 1894).
---

The Station is at the church of Sts. Cosmas and Damian, physicians. These martyrs were twin brothers originating from Arabia. They practiced medicine in Aegea, Cilicia, but accepted no money from the poor. Their beautiful Christian lives edified the pagans and converted many to the Faith. They were arrested in the persecution of Diocletian, subjected to torture, and finally beheaded.