» Enjoy our Liturgical Seasons series of e-books!
Other Commemorations: St. Peter of Verona (RM); St. Phaolo Le Bao Tinh (RM)
Historically today is the feast of Saint Juliana of Cornillon, also known as Juliana of Liege, who was a medieval Norbertine canoness regular and mystic in what is now Belgium. She has long been recognized as the promoter of the Feast of Corpus Christi.
---
St. Peter of Verona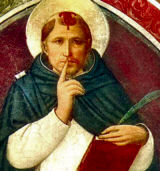 Peter entered the Dominican Order in 1221, the year when St. Dominic died. He was a zealous preacher, and as Inquisitor converted many heretics. While attending school at the age of seventeen, he was asked by his uncle, a heretic, what he was learning. Candidly the boy replied, "The Apostles' Creed." Neither threats nor honeyed words from father and uncle were able to shake the boy's steadfast faith. Years later, when death was near, he once more recited the Apostles' Creed that he prayed so courageously in his youth. The mortal stab soon fell, and he received the martyr's crown.
—Excerpted from
The Church's Year of Grace
, Pius Parsch
Patron:
Inquisitors.
Symbol:
Dominican with a large knife in or splitting his head; holding a knife; man with a knife in his head and a sword in his breast.
Things to Do:
As he lay dying, it is said, Peter wrote the word Credo on the ground with his own blood. To us also may the Creed be a source of blessing in life and in death! To that end we might occasionally meditate on one or another of its articles. Devoutly, reverently the words should pass our lips, especially at Mass. Remember that martyrs' blood has flowed for all its phrases.
Read more about St. Peter of Verona. Also visit this site for more information.
Read "Glory of the Preachers": St. Peter of Verona at Crisis Magazine
---
St. Phaolo Le Bao Tinh
Phaolo was born in 1793 at Trinh-Ha village, Thanh Hoa Province, now Vietnam, to wealthy parents. As a child he studied under a local Confucian scholar, until his parents sent him at twelve years of age to the Catholic seminary at Ke-Vinh.
The seminary described Phaolo as prayerful, ascetical and studious. He enjoyed reading the lives of saints and reminded everyone that they also were called to be saints. He felt called to live as a hermit and left the seminary to live in a cave, surviving on rice and fruit, passing his days in prayer and mortification.
The local Bishop then asked Phaolo to help in the work of bringing missionary priests back to the area. After this, he settled down in the mountains of Laos, mixing missionary work with being a reclusive hermit.When persecution of Christians broke out in 1841, Phaolo was arrested by government officials and he spent the next seven years in prison at Hanoi. Shortly after receiving the death sentence he wrote to a seminarian describing his experience in prison:
"I, Paul, bound in chains for the sake of Christ, send to you from prison salutations which are many and final.… The prison is truly a living example of hell: to chains, shackles and manacles, are added anger, vengeance, lies, obscene conversations, brawls, evil acts, swearing, slander, plus boredom, sadness, mosquitoes and flies….I write these things so that your hearts might burst with desire to be martyrs, and that your prayers might strengthen me, who lives in the arena of combat."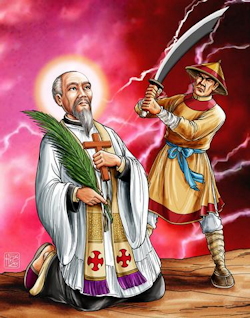 Emperor Thieu Tri in 1848, commuted Phaolo's sentence from death to perpetual exile in Phu Yen Province. At the end of the same year the new Emperor, Tu Duc, granted an amnesty to all exiles.Phaolo then travelled to the seminary at Ke-Vinh, where he renewed his studies, later being ordained a priest.After exercising his priestly ministry until 1855, some mandarins complained to the governor about Christians and Phaolo was arrested again. For working as a priest, he was classed as a criminal and was sentenced to be decapitated. Early next day he was led to the place of execution. His last words were: "The religion of the Heavenly Master is perfectly true, even though our king and the sovereigns of other nations persecute it and wish to destroy it. But this religion will be victorious, and in the future it will count more adherents than it ever has had in the past." The executioner then came with his sword and the death sentence was carried out.Overall, St Paul's spirituality had centred on the Cross of Jesus and the practice of prayer and asceticism. St Paul Le-Boa Tinh was canonized a saint by Pope John Paul II in 1988.—Adapted from Prayers4Reparation's Blog
Things to Do:
Phaolo Le Bao Tinh was a Vietnamese priest. He wrote a letter to the seminary of Ke Vinh in 1843 detailing the sufferings of Christian prisoners. He himself was martyred on 6 April 1857. He was canonized in 1984 by Pope John Paul II. Read his letter.
---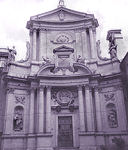 Wednesday of the 5th Week of Lent
Station with San Marcello al Corso (St. Marcellus at the Corso):
The Station today is at the church of St. Marcellus at the Corso. Legend claims that Pope St. Marcellus (308-309) was sentenced by Emperor Maxentius to look after the horses at the station of the Imperial mail on the Via Lata, where the Via del Corso now lies. He was freed by the people, and hidden in the house of the Roman lady Lucina (see also San Lorenzo in Lucina). He was rearrested, and imprisoned in the stables.

For further information on the Station Churches, see The Stational Church.