» Enjoy our Liturgical Seasons series of e-books!
Old Calendar: St. Heribert, archbishop (Hist); St. Abraham & St. Mary, hermit (Hist)
While still more people gathered in the crowd, he said to them, "This generation is an evil generation; it seeks a sign, but no sign will be given it, except the sign of Jonah. Just as Jonah became a sign to the Ninevites, so will the Son of Man be to this generation. At the judgment the queen of the south will rise with the men of this generation and she will condemn them, because she came from the ends of the earth to hear the wisdom of Solomon, and there is something greater than Solomon here. At the judgment the men of Nineveh will arise with this generation and condemn it, because at the preaching of Jonah they repented, and there is something greater than Jonah here (Lk 11:29-32).
Today is an
Ember Day
in the Tridentine Rite. There are two principal objects for the Ember Days of this period of the year: the first is to offer to God the season of Spring, and, by fasting and prayer, to draw down His blessing upon it; the second is to ask Him to enrich with His choicest graces the priests and sacred ministers who are to receive their Ordination on Saturday.
Stational Church
---
Meditation - The Faults of Our Neighbor
In disagreements between you and your neighbor, you must always remember that to be in the right is the consideration that influences a Christian the least. The philosopher may indulge such a satisfaction. But to be in the right and to act as if one were not, to allow one's opponent to triumph on the side of injustice,-this means to overcome evil by good, and to secure peace for one's soul. No more convincing argument for your own vindication is required than the silent exterior acknowledgment that you are in the wrong. He who edifies does more for the truth than he who is zealous for the combat. Instead of trying to refute those that are in the wrong, it is better to pray for them. A stream flows much more rapidly when nothing is done to hold it back. Pray for those who are prejudiced against you, never become embittered against them, pity them, await their return to better feelings, and help to free them from their prejudices. One would not be human if he does not feel how easy it is to stray, and how much it costs to acknowledge this. The spirit of meekness, of indulgence, of patience and humility in examining the behavior of others toward us, secures us that peace of mind which is not compatible with the jealous, suspicious sensibilities of self-love. — Fénelon
Things to Do:
Read this thought-provoking article by George Rutler, Why We Need Lent, to understand why such a season of mortification is necessary for us to become saints.
---

Today's Station is at St. Mary Major. The spring Ember Week consecrated the new season to God and by prayer and fasting sought to obtain abundant graces for those who on Saturday were to receive Holy Orders. The Station was fittingly held in the church, which witnessed the first scrutinies for the coming ordinations, and which was dedicated to the mother of the great High Priest.
---
Saint Heribert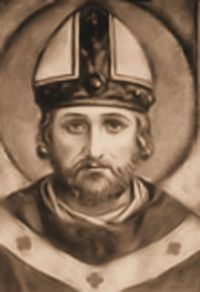 Heribert was born in Worms and he was the son of Hugo, count of Worms. He was educated in the school of Worms Cathedral and at the Benedictine Gorze Abbey in Lorraine, France. He returned to Worms Cathedral to be provost and was ordained a priest in 994.
In the same year Otto III appointed him chancellor for Italy and four years later also for Germany, a position which he held until Otto's death on 23 January 1002. Heribert was made an archbishop of Cologne on 998. Then, he also served Emperor St. Henry.Heribert built the monastery of Deutz, on the Rhine and performed miracles, including ending a drought. He is thus invoked for rains.He died in Cologne on March 16, 1021 and was buried at Deutz.He was already honoured as a saint during his lifetime and was canonized by Pope St. Gregory VII about 1074.© Evangelizo.org
---
St. Abraham & St. Mary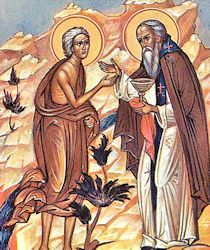 Abraham was a rich nobleman of Edessa. At his parents' desire he married, but escaped to a cell near the city as soon as the feast was over. He walled up the cell-door, leaving only a small window through which he received his food. There for fifty years he sang God's praises and implored mercy for himself and for all men. The wealth which fell to him on his parents' death he gave to the poor.
As many sought him for advice and consolation, the Bishop of Edessa, in spite of his humility, ordained him priest. St. Abraham was sent, soon after his ordination, to an idolatrous city which had hitherto been deaf to every messenger. He was insulted, beaten, and three times banished, but he returned each time with fresh zeal. For three years he pleaded with God for those souls, and in the end prevailed. Every citizen came to him for Baptism.After providing for their spiritual needs he went back to his cell more than ever convinced of the power of prayer. His brother died, leaving an only daughter, Mary, to the Saint's care. He placed her in a cell near his own, and devoted himself to training her in perfection. After twenty years of innocence she fell, and fled in despair to a distant city, where she drowned the voice of conscience in sin. The Saint and his friend St. Ephrem prayed earnestly for her during two years. Then he went disguised to seek the lost sheep, and had the joy of bringing her back to the desert a true penitent. She received the gift of miracles, and her countenance after death shone as the sun.St. Abraham died five years before her, about 360. All Edessa came for his last blessing and to secure his relics.Excerpted from
Lives of the Saints
, by Alban Butler, Benziger Bros. ed. [1894]
Things to Do:
---

Saturday of the First Week of Lent
Station with St. Peter (San Pietro in Vaticano): The Station is in the basilica of St. Peter in the Vatican, where the people would assemble towards evening, that they might be present at the ordination of the priests and sacred ministers. This day was called Twelve-Lesson-Saturday, because, formerly, twelve passages from the holy Scriptures were read, as upon Holy Saturday. The original basilica was built by Constantine in 323 over the place where St. Peter was buried.