Move to:
Previous Day
|
Next Day
Lent: March 6th
Friday of the First Week of Lent
Other Commemorations: Sts. Perpetua and Felicitas, martyrs; St. Colette, virgin & religious (RM)
» Enjoy our Liturgical Seasons series of e-books!
"If your virtue goes no deeper than that of the scribes and pharisees, you will never get into the kingdom of heaven (Matt. 5:20)." The need to make reparation is a vital, inescapable urge of a free person. His very nature cries out for order and peace. His reason tells him that where an order has been violated, the order must be repaired; and the higher the order, the greater must be the reparation. To be free at all, is to accept the responsibility for atonement. Sin is a violation of God's order. Sin demands reparation — the reparation of personal penance, personal prayer, personal charity to all. Part of our atonement to God is made by serving our fellow men. — Daily Missal of the Mystical Body
According to the 1962 Missal of Bl. John XXIII the Extraordinary Form of the Roman Rite, today is the feast of Sts. Perpetua and Felicitas. Their feast in the Ordinary Form of the Roman Rite is celebrated on March 7.
Stational Church
---
Lent a Great Spiritual Retreat
As he places the Ashes on the person's forehead the celebrant says "Remember you are dust, and to dust you shall return" (cf. Gn 3: 19), or he repeats Jesus' exhortation, "Repent, and believe in the Gospel" (cf. Mk 1: 15). Both formulas are a reminder of the truth about human life: we are limited creatures, sinners always in need of repentance and conversion. How important it is to listen to and accept this reminder in our time! When contemporary man proclaims his total autonomy from God, he enslaves himself and often finds himself in comfortless loneliness. The invitation to conversion, therefore, is an incentive to return to the embrace of God, the tender and merciful Father, to entrust oneself to him, to entrust oneself to him as adoptive sons, regenerated by his love. With wise pedagogy the Church repeats that conversion is first and foremost a grace, a gift that opens the heart to God's infinite goodness. He himself anticipates with his grace our desire for conversion and accompanies our efforts for full adherence to his saving will. Therefore, to convert is to let oneself be won over by Jesus (cf. Phil 3: 12) and "to return" with him to the Father. . . . (
more
)— Benedict XVI
---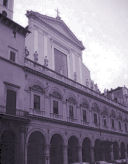 Today's station is at the Church of the Twelve Apostles. Traditionally, this is the place where the Romans choose their candidates for priesthood (Rite of Election). It was erected by Julius I (337-352) over the barracks of ancient Rome's firemen and entrusted since 1463 to the Conventual Franciscans. Originally dedicated to the Apostles St. James and St. Philip, it was rededicated to all the Apostles in the 16th century.
---
St. Colette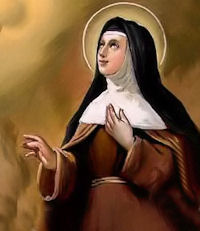 Born in 1380, Nicolette was named in honor of St. Nicholas of Myra. Her loving parents nicknamed her Colette from the time she was a baby. Colette's father was a carpenter at an abbey in Picardy. Quiet and hard-working, Colette was a big help to her mother with the housework. Her parents noticed the child's liking for prayer and her sensitive, loving nature.
When Colette was seventeen, both her parents died. The young woman was placed under the care of the abbot at the monastery where her father had worked. She asked for and received a hut built next to the abbey church. Colette lived there. She spent her time praying and sacrificing for Jesus' Church. More and more people found out about this holy young woman. They went to see her and asked her advice about important problems. They knew that she was wise because she lived close to God. She received everybody with gentle kindness. After each visit, she would pray that her visitors would find peace of soul. Colette was a member of the Third Order of St. Francis. She knew that the religious order of women who followed St. Francis' lifestyle are the Poor Clares. They are named after St. Clare, their foundress, who was a follower of St. Francis. During Colette's time, the Poor Clares needed to go back to the original purpose of their order. St. Francis of Assisi appeared to Colette and asked her to reform the Poor Clares. She must have been surprised and afraid of such a difficult task. But she trusted in God's grace. Colette traveled to the Poor Clare convents. She helped the nuns become more poor and prayerful. The Poor Clares were inspired by St. Colette's life. She had a great devotion to Jesus in the Eucharist. She also spent time frequently meditating on the passion and death of Jesus. She loved Jesus and her religious vocation very much. Colette knew exactly when and where she was going to die. She died in one of her convents in Ghent, Flanders, in 1447. She was sixty-seven. Colette was proclaimed a saint by Pope Pius VI in 1807. Excerpted from Holy Spirit Interactive.
Things to Do: