Move to:
Previous Day
|
Next Day
Ordinary Time: August 23rd
Wednesday of the Twentieth Week in Ordinary Time; Optional Memorial of St. Rose of Lima, Virgin
» Enjoy our Liturgical Seasons series of e-books!
The Church celebrates the Optional Memorial of St. Rose of Lima (1586-1617), the first canonized saint of the Western Hemisphere. St. Rose might also be considered a type of the special vocation of contemplative-in-the-world. Inspired by the example of St. Catherine of Siena, Rose became a Dominican lay tertiary and devoted herself to works of active charity while living a life of extreme austerity. She longed to evangelize the Indians, not at all discouraged by the thought that they would probably kill her. St. Martin de Porres and St. John Masias were among her friends. She died at the age of 31, praying, "Lord, increase my sufferings, and with them increase your love in my heart."
---
St. Rose of Lima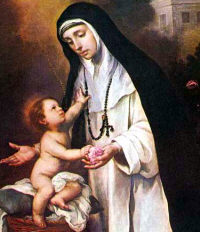 Rose of Lima, a member of the Third Order of St. Dominic, was the "first blossom of sanctity that South America gave to the world." Hers was a life heroic in virtue and penance. She expiated the evils perpetrated by the conquerors of the land in their lust for gold. For many her life was a silent sermon of penance. Pope Clement X stated in the bull of canonization: "Since the discovery of Peru no missionary has arisen who effected a similar popular zeal for the practice of penance."
Already as a five-year-old child (born 1586), Rose vowed her innocence to God. While still a young girl, she practiced mortifications and fasts that exceeded ordinary discretion; during all of Lent she ate no bread, but subsisted on five citron seeds a day. In addition, she suffered repeated attacks from the devil, painful bodily ailments, and from her family, scoldings and calumnies. All this she accepted serenely, remarking that she was treated better than she deserved. For fifteen years she patiently endured the severest spiritual abandonment and aridity. In reward came heavenly joys, the comforting companionship of her holy guardian angel and of the Blessed Virgin. August 24, 1617, proved to be the day "on which the paradise of her heavenly Bridegroom unlocked itself to her."
—Excerpted from The Church's Year of Grace, Pius Parsch
Patronage: Against vanity; Americas; Central America; embroiderers; florists; gardeners; India; Latin America; needle workers; New World; people ridiculed for their piety; Peru; Philippines; diocese of Santa Rosa, California; South America; vanity; Villareal Samar, Phillipines; West Indies.
Symbols and Representation: Crown of roses and thorns; needle and thimble; spiked crown; iron chain; Anchor Holy Infant; roses.
Often Portrayed As: Dominican tertiary holding roses; Dominican tertiary accompanied by the Holy Infant.
Highlights and Things to Do:
Read more about St. Rose of Lima.
See these sites for more information about St. Rose:
For further reading, check out these books on St. Rose:

For Children: St. Rose of Lima by Mary Fabyan Windeatt
The Life of Rose of Lima by Faber

For geography and cultural, especially on festivals in Peru:
Read Pope Benedict XVI's General Audience on Several Saints which includes St. Rose of Lima.
Although St. Rose is typically depicted in a Dominican sister habit, she was a lay Dominican (sometimes referred to as Third Order Dominican). Visit here for more information.
Visit Catholic Cuisine for feast day food ideas.
Since St. Rose is the patron of needleworkers and embroiderers, how about learning or practicing a little embroidery for her feast day? See Spruce Crafts for a little beginning info.
We always thinking of St. Francis of Assisi for our garden, but St. Rose is also the patron of florists and gardeners. A beautiful bouquet of flowers on the table would be a wonderful way to celebrate this saint!