Move to:
Previous Day
|
Next Day
Ordinary Time: November 14th
Thirty-Third Sunday in Ordinary Time; World Day of the Poor
» Enjoy our Liturgical Seasons series of e-books!
Jesus said to his disciples: "In those days after that tribulation the sun will be darkened, and the moon will not give its light, and the stars will be falling from the sky, and the powers in the heavens will be shaken. And then they will see 'the Son of Man coming in the clouds' with great power and glory, and then he will send out the angels and gather his elect from the four winds, from the end of the earth to the end of the sky (Mk 13:24-27)."
Today is the Fifth
World Day of the Poor
. See the
Message of His Holiness Pope Francis
Click here for commentary on the readings in the 1962 Roman Missal of St. John XXIII.
---
Sunday Readings
The First Reading is taken from the Book of Daniel 12:1-3. Today's reading puts before our eyes the fact that this world will have an end marked by great upheavals and disasters. However, these will be followed immediately by a new and everlasting existence.
The
Second Reading
is from the Letter of St. Paul the Hebrews 10:11-4; 18. St. Paul continues to compare the priesthood of Christ with the Jewish priesthood.The
Gospel
is from the Gospel of Mark 13:24-32. There are some obscurities in this extract from St. Mark. Firstly, because Christ was discussing and answering questions on two distinct topics : the destruction of the temple and the end of the world. Secondly, because we may not have the
ipsissima verba
of Christ here, as many exegetes suggest. The message we must learn from today's gospel comes across without any ambiguity or doubt : we must always be ready to face our judgement for we know not the day nor the hour when we will be called from this life. When or how this world will end is of no great importance to us; what is important is that we shall leave this world very soon and our eternity will depend on the state of our consciences at the moment of our departure.This is the steadying thought the Church, in her wisdom, wishes to put before our minds today. We all know that we must die someday. We are strangers and pilgrims on this earth; we have not here a lasting city, as St. Augustine says. No sane person among us will try to deny this and yet, many of us are so immersed in the things of this world that we forget or try to forget that we must leave this world soon. This is very natural : life is a precious gift and as our earthly life is the only one of which we have experience our every inclination is to hold on to it at all costs. Even when our intelligence tells us that it can, in spite of all our endeavors, end very soon we try to convince our¬selves that that "very soon" is really in the distant future.We have God's word for it and the example of Christ's resurrection to a life of glory. Let us appreciate the truth that our death on earth is not the end of life but rather the beginning of the true life that will never end. As the liturgy says in the Mass for the Dead : "Life is changed (by death) not taken away." Our death is the doorway through which we pass into the unending life. The years on earth are a gift of God to enable us to earn the infinitely greater gift which in his loving mercy he has prepared for us from all eternity.God in his mercy is calling on each one of us to be ready when our call comes. We can do nothing about the when or the where of that call, but we can do much about the state of our relationship with God when death comes; in fact, aided by God's grace we can ensure that all will be well with us. We cannot avoid a sudden death, but we can avoid an unprepared death by striving always to live in peace with God. This does not mean that we must be always on our knees praying to God and that we must take no interest in the things and the joys of this world. Far from it. God wants us to use the things of this world, but to use them so that they will not hinder us on our journey.A very practical way to see how we stand in relation to God and to the things of this world, is for each one of us to ask himself today : "How would I fare if I were called to render an account of stewardship tonight?" This is the practical question that God, through today's readings, is asking us to put to ourselves. If, to our dismay, we find there are several things which have to be put right before facing our judge we will start right away to put them right. We may get another chance, another warning, and we may not. If we value our eternal happiness we will take this warning; we will put our books in order; we will make peace with God and our neighbors—and with God's grace we will do all in our power to persevere in this good resolution. —Excerpted from
The Sunday Readings
by Fr. Kevin O'Sullivan, O.F.M.
---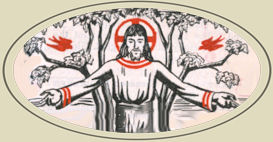 Commentary for the readings from the 1962 Roman Missal:
Twenty-Fifth Sunday after Pentecost
"The kingdom of heaven is like a grain of mustard seed,. . .smallest of all the seeds, but when it grows up it. . .becomes a tree, so that the birds. . .dwell in its branches" (Gospel).
So the Church from humble beginnings in underground Catacombs, has stretched out to the remotest ends of foreign missions. . . a living shelter for man as he flees upward from the earth; a miraculous
leaven
transforming fallen human culture into the Divine.Yes, the Life of Christ is a
leaven
hiding, as it were, from the time of our Baptism in the
three measures
of faith, hope and charity until
all
of our humanity is
leavened
. Like the first Christians, we, too, are to become
a pattern to all
, so that our neighbors
in Macedonia and Achaia
(Epistle), like
birds of the air
, will
come and dwell
in the
branches
of the Church.—Excerpted from
My Sunday Missal
, Confraternity of the Precious Blood